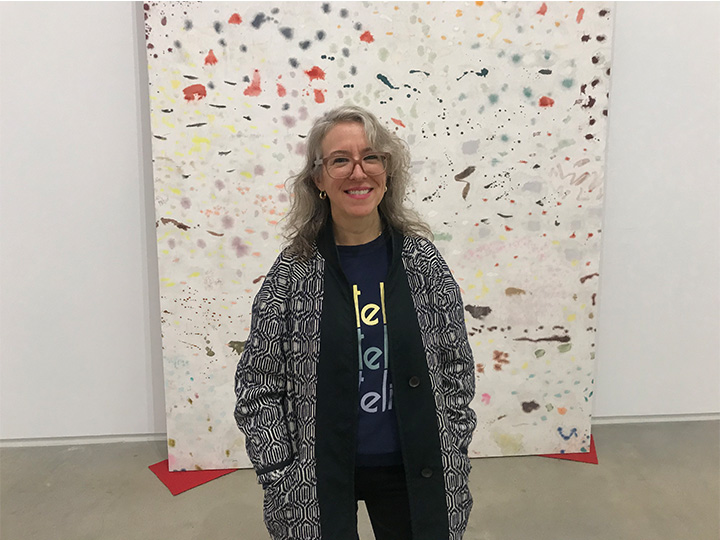 One of the world's leading abstract painters will display her work at the University of Houston's Blaffer Art Museum. "Rebecca Morris: The Ache of Bright" will be on view Friday, Jan. 11 through Saturday, March 16. The reception celebrating the exhibition opening is 6 p.m., Friday, Jan. 11 at the museum located at 4173 Elgin Street, Houston, TX 77004.
The show will feature 10 large-scale paintings made by the Guggenheim Fellow over the last four years. This will be Morris' first solo U.S. museum presentation since 2005 and the first time her work has ever been exhibited in Texas.
"As an artist and a professor, I have a deep commitment to arts education and view the gallery space, especially within a university setting, as a dynamic site for students and the community at large," said Morris, who is a tenured professor of painting at Pasadena City College in Pasadena, California. "It is extremely meaningful for my paintings to be exhibited in such an active, energized campus in the middle of a city like Houston."
The title "The Ache of Bright" comes from a poem by Martha Ronk, in which she describes the affective qualities of sunlight in Los Angeles, where Morris currently lives. Morris also authored "For Abstractionists and Friends of the Non-Objective," a manifesto that includes instructions and proclamations for artists working in abstraction.
"We are extremely privileged to have worked closely with Morris on all aspects of this project to present a major exhibition of one of the world's leading painters," said Tyler Blackwell, Blaffer Art Museum's Cynthia Woods Mitchell Curatorial Fellow. "This exhibition continues and builds upon Blaffer's longstanding tradition of mounting presentations by significant contemporary artists from around the globe." 
You can read more about Morris and her exhibition on the Blaffer Art Museum website. The museum is open 10 a.m.- 5 p.m., Tuesday-Saturday and admission is free.
---