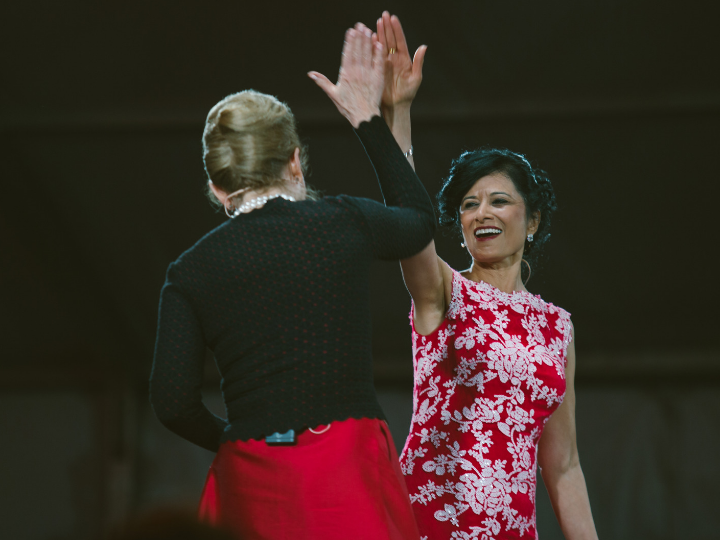 Eighteen months ahead of schedule the University of Houston System fundraising campaign, 'Here, We Go,' has raised $1.003 billion, surpassing its goal of $1 billion. The campaign will continue to build on this momentum to go 'Beyond the Billion' before it concludes in 2020.
"I sincerely thank all those who have joined us on this incredible journey. Let us continue on this path and continue to dream big and accomplish the extraordinary," said Renu Khator, chancellor and president, University of Houston System.
The milestone, which represents substantial investment in student success, was announced at the University of Houston System Board of Regents meeting Thursday. The capital campaign, the most aggressive goal in the institution's 90-year history, is led by volunteer co-chairs Tilman J. Fertitta ('78), Beth Madison ('72), John L. Nau III and Marvin E. Odum III (M.B.A. '95).
The campaign is designed to continue strategically moving the system universities forward with priorities to support student scholarships and fellowships, build state-of-the-art facilities, attract and retain top faculty, advance academic programs, workforce training and research that fuel a healthy Houston economy, and build a nationally relevant athletics program.
The unprecedented success of the campaign has created change at every turn, including 16 new or renovated facilities. Some highlights:
1,032 new scholarships across the UH system have opened doors for the school's most precious resource - students.
A $20 million gift from Tilman J. Fertitta for renovation and construction of the Fertitta Center a 7,100-seat multi-purpose arena that is home to the Houston Cougars men's and women's basketball teams and the women's volleyball team.
A $15 million gift from Humana Inc. created the Humana Integrated Health System Sciences Institute at the University of Houston and will help defray start-up and operational costs for the UH College of Medicine, as well as fund endowed chairs at several UH colleges.
The entire tuition for the inaugural class of the UH College of Medicine has been paid with an anonymous $3 million gift.
The University of Houston-Downtown received its largest-ever donation—$10 million from Houston businesswoman Marilyn Davies to the UHD business school to better prepare the workforce.
The Durga D. and Sushila Agrawal Engineering Research Building allows innovative programs and new laboratory and classroom facilities and recruitment of some of the world's greatest engineering minds as students and faculty.
The University of Houston-Victoria received 65 acres of land from the Bennett-Wood Family, the largest donation ever made in support of UHV athletics.
Across the UH campus, nine additional research and innovation centers have launched, churning out innovative and entrepreneurial ideas and solutions.
$20 million gift to name the Kathrine G. McGovern College of the Arts
$17 million gift to create the Diamond Family Scholars, offering financial, academic, mentoring support for students aging out of the foster care system
"Everywhere you look at the University of Houston, you can see the Powerhouse growing and you can be certain it would not be possible without the generous support of our alumni base and our corporate neighbors near and far who continue to help us make transformational changes to the University," said Eloise Brice, UH System vice chancellor for university advancement. "I am most inspired that 178,909 people have already committed support to the University and I am excited about what that means for the rest of our campaign."
More than 178,000 donors, including 126,000 new donors, have contributed to the campaign, which began quietly in 2012 and launched publically in Jan. 2017.
As the campaign moves beyond the $1 billion threshold, the strategic focus of continued fundraising will center on three priorities:
Scholarships: essential for increasing affordability and access
Endowed professorships: crucial for recruiting and retaining world-class faculty researchers and engaging teachers
Campus identity projects: architectural, artistic and grounds improvements that will create a physically vibrant and unified campus to attract great students and faculty and preserve UH's visual legacy
"The University of Houston is on the move, and investing in UH is truly a gift that keeps giving, helping us continue to expand our academic excellence and impact," said Odum. "This kind of support assures our place not only as a top tier university, but as an institution that lives in the hearts and minds of Houstonians and our friends around the world."
Below is a snapshot of the Here, We Go Campaign, Beyond the Billion, by the numbers:
Campaign By-the-Numbers to Date
$1,003,348,057
178,909 total donors
126,946 new, first-time donors
158,789 gifts
$306M raised from alumni
$197M raised from those with no academic ties to the UH System
$201M raised from gifts under $25K
$178M raised for scholarships
$78M raised for chairs and professorships
$150M raised for campus improvements
1,032 scholarships
16 new and renovated facilities
9 centers and institutions
---