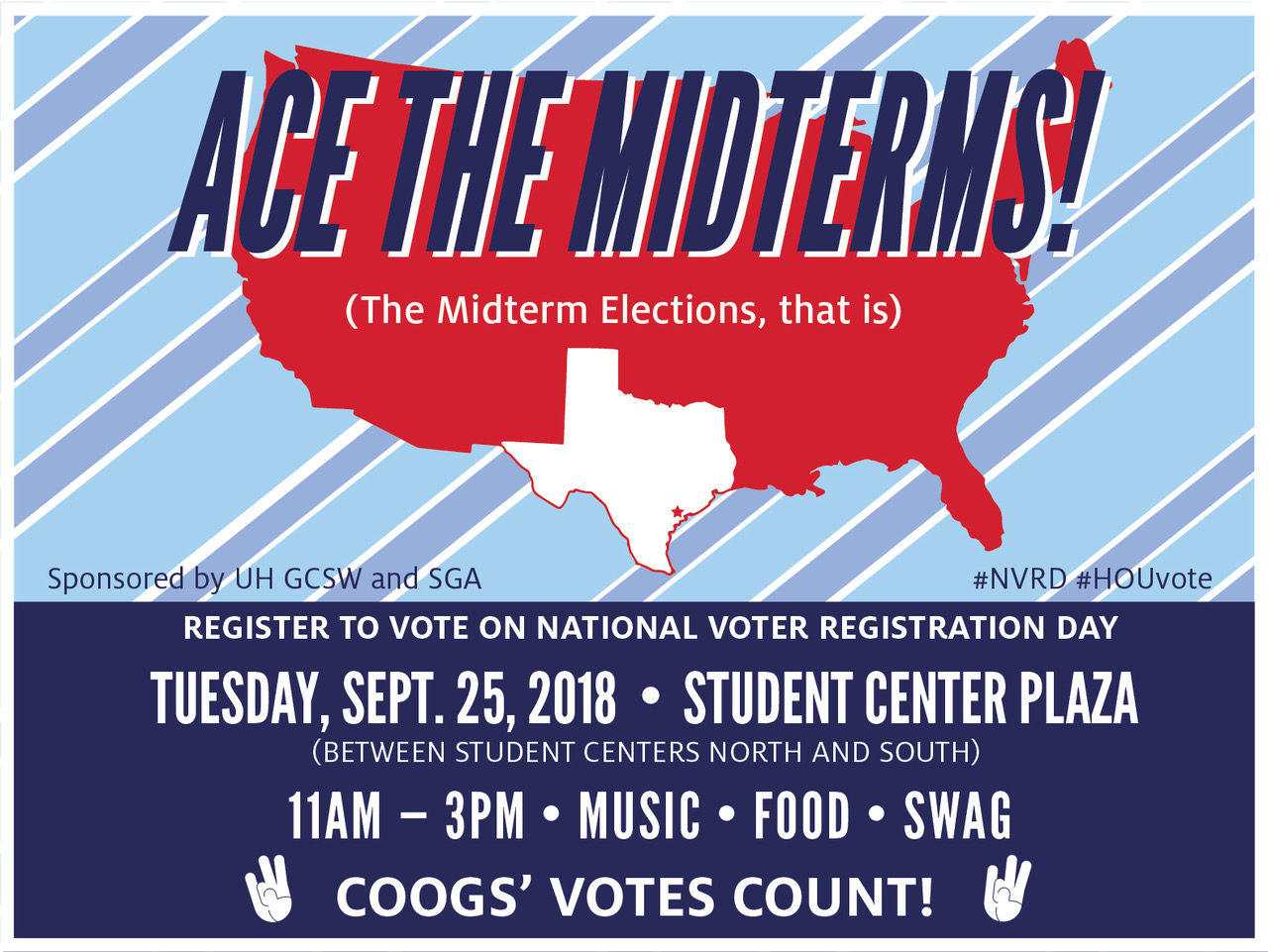 On National Voter's Registration Day the University of Houston Graduate College of Social Work Dean's Advocacy Committee, along with a coalition of campus organizations, will join others across the nation in efforts to create broad awareness of voter registration opportunities.
The Every Vote Counts Campaign will launch with a campus-wide rally on Tuesday, September 25, 2018 at 11 a.m. – 3 p.m. on the plaza between the University of Houston Student Center North and South.
"As committed social workers and alums of the University of Houston GCSW, our committee wants to educate UH students on how to register to vote and the importance of being life-long voters. We are pleased to tie our efforts to the National Voter Registration Day and to work with a variety of student organizations across campus," said Barbara Mackey, chair of the UH GCSW Dean's Advisory Council Advocacy Committee.
The campaign encourages students to Ace the Midterms; the Midterm Elections, that is.
Potential voters will be able to complete their registration applications, obtain appropriate identification, view a demonstration of voter equipment, ask questions about the voting process, and even meet some candidates running for office. The rally will feature live music, food, and festivities.
"Expanding access to voting is in keeping with social work values and practice. Moreover, it is an issue that resonates with the College's vision to achieve social, racial, economic, and political justice. I am thrilled, though not surprised, that the Dean's advisory council has taken our vision to heart and volunteered to undertake this effort that will educate and empower University of Houston students to exercise their voting rights," said Alan Dettlaff, dean of the Graduate College of Social Work.
What: Every Vote Counts Campaign Campus Rally
Who: UH Graduate College of Social Work Dean's Advisory Council's Advocacy Committee 
When: Tuesday, September 25 at 11 a.m. – 3 p.m.
Where: University of Houston Student Center Plaza (between North and South)
            4455 University Dr., Houston, TX 77204
---