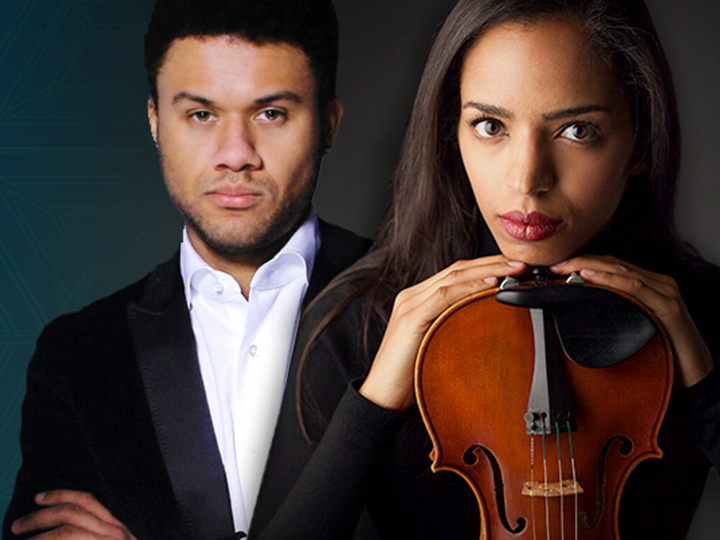 Internationally acclaimed black professional classical musicians, composers and music scholars will take center stage at the University of Houston during the Colour of Music Festival , Sept. 12-16, at Dudley Recital Hall and Moores Opera House on the UH campus. The event is hosted by the UH College of Liberal Arts and Social Sciences, the Kathrine G. McGovern College of the Arts and the Office of the Provost.
Houston is one of only three cities where audiences will experience a "petit" version of the annual festival, which takes place next month in South Carolina. The Houston festival will feature musicians from around the world performing organ, piano, vocal, chamber and orchestral works. Through concerts and panel discussions, these musicians and scholars will showcase the impact of black classical artists on American and world culture.
"I am delighted that the University of Houston College of Liberal Arts and Social Sciences has partnered with the Colour of Music Festival to recognize the talents and contributions by classical artists of African descent," said Antonio D. Tillis, dean of the College of Liberal Arts and Social Sciences. "This event will allow fans of classical music to experience new voices and perspectives and will highlight not only local artists, but also artists from around the world."
Since 2013, the Colour of Music Festival has brought classically trained black musicians together so that the public can experience the talents of prodigiously gifted composers and performers of African descent. Leading black maestros Kirk Smith and David E. Morrow will serve as guest conductors to lead the Masterwork Series.
"The festival supports the vision of the Kathrine G. McGovern College of the Arts in leveraging music and the arts to make higher education accessible and relevant for the widest possible cross-section of our diverse Houston community," said Andrew Davis, dean. "The festival will feature music and artists of the highest caliber in an event unlike any we have seen to date."
Colour of Music Festival highlights:
German violinist Anyango Yarbo-Davenport will lead an all-female virtuosi in honor of 91-year-old opera sensation Leontyne Price, the most famous soprano of her generation and a major contributor to black classical music's advancement. In recognition of Price's work with composer Samuel Barber, soprano Laquita Mitchell will perform Barber's "Hermit Songs."
The Paris-based Grimbert-Barré Trio, featuring brothers Romuald, Jonathan and Maxence Grimbert-Barré, will make their Houston debut with Jonathan Grimbert-Barré's "Triple Concerto for String Trio and Orchestra." A special program at Dudley Recital Hall will feature organist Mickey Thomas Terry, tenor Rodrick Dixon and the Colour of Music Chorale performing Robert Nathaniel Dett's "Chariot Jubilee."
The festival's opening Masterworks performance on Saturday, Sept. 15, will feature Houston-based maestro Kirk Smith conducting Samuel Coleridge-Taylor's orchestral and choral masterpieces "The Song of Hiawatha's Overture"and  "Hiawatha's Wedding Feast." Under the direction of Morehouse College conductor David E. Morrow on Sunday, Sept. 16, the finale will recognize black composers of the past.
Families and individuals affected by the 2017 Houston floods will be honored with a performance of Joseph Haydn's "Lord Nelson Mass," and Houston-based composer John L. Cornelius II's "Judgement for String Orchestra" will be presented in honor of enslaved Africans who perished during the Middle Passage.
"We eagerly look forward to reaching new musical heights in the international and culturally diverse city of Houston with talent from around the globe," said festival founder and artistic director Lee Pringle.
The festival is co-sponsored by the Office of the Provost as part of Provost Paula Myrick Short's commitment to fostering intellectual diversity and co-curricular collaboration across UH colleges. Click here for more information about performance times and tickets.
The University of Houston's Third Ward Classical Music Legacy from Colour of Music Festival on Vimeo.
---