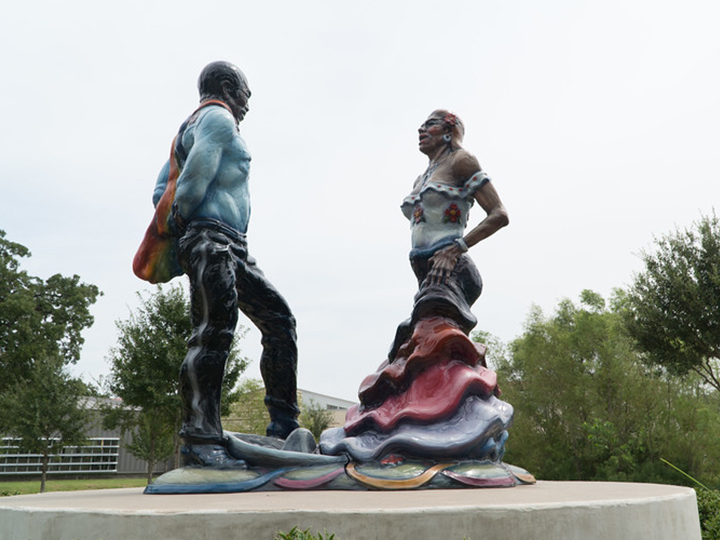 University of Houston is the recipient of six Mayor's Proud Partners Landmark Awards sponsored by Keep Houston Beautiful (KHB). The annual awards recognize the exceptional efforts by individuals, communities, businesses and organizations to enhance the city's landscape. From the ingenuity of architecture students who designed and fabricated a new Embarkation Station for Port Houston to UH's efforts to give access to world-class public art, a wide range of UH projects earned accolades.
As a first-time Mayor's Proud Partners Award recipient, Public Art of the University of Houston System (PAUHS) was honored for being a destination point for communities, neighbors and art lovers across the region to experience one of the largest university art collections in the U.S. With nearly 700 pieces spanning across the UH System, including University of Houston, University of Houston at Sugar Land, University of Houston-Downtown, University of Houston–Clear Lake and University of Houston–Victoria, PAUHS is offers a wide range of media and styles—free and open to the public. 
In anticipation of its 50th anniversary in 2019, PAUHS embarked on a Public Art Collection Enhancements (PACE) project under which a number of important artworks are undergoing conservation treatment. The pieces will be resited to more prominent locations as part of an overall beautification program that also includes landscaping and site redesign. The cornerstone of the PACE project is a robust placemaking process by which public art will now significantly anchor spaces across the University of Houston and the University of Houston-Clear Lake.
"The collection engages academic and global communities in an open forum to promote dialogue about the visual arts and its relevance to contemporary life," said María C. Gaztambide, PAUHS director and chief curator. "Our increasing focus on placemaking—partly realized through the PACE project—is yielding a better understanding of how great art spaces can foster successful social networks and benefit multiple stakeholders while beautifying our campuses."
Graduate students in the design/build studio at the UH Gerald D. Hines College of Architecture and Design received accolades for their design and fabrication of an Embarkation Station at Port Houston. When it is installed, the nearly 400-foot structure will provide seating and shade from the hot Houston sun for many of the 30,000 passengers who take boat tours annually. On rainy days, the station's roof will direct rainwater to four 130-gallon tanks to lower its flooding impact.
"This project, our second in collaboration with Port Houston and 29th overall, not only provides a permanent public gathering space for Port Houston visitors; but also gives graduate students the opportunity to test the quality of their design thinking by creating a work of architecture while still early in their educational careers," said Patrick Peters, architect and coordinator of the UH Graduate Design/Build Studio.
The UH Office of Sustainability earned a Landmark Award for its efforts to reduce campus vehicle traffic while offering students, staff and faculty a fun, healthy way to explore the city's landmarks. In August, UH and Houston BCycle, the city's bike-share program, rolled out four riding stations around campus. Since then, the red bikes have been used by members of the UH community nearly 4,000 times. UH riders can become members for a nominal fee. Routes in the BCycle network include Houston Zoo, Miller Outdoor Theatre, Discovery Green and BBVA Compass Stadium. Expect to see more Houston BCycle stations go online at UH within the next couple of months.
"Providing access to bike sharing helps reduce emissions and contributes to cleaner air that benefits the overall wellbeing of Houstonians," said Michael Mendoza, manager, UH Office of Sustainability. "We hope to build a culture of alternative transportation use and we are excited to see Keep Houston Beautiful support these endeavors."
The Mayor's Proud Partners Awards are presented annually by KHB. Click here to see the complete list of UH winners.
---