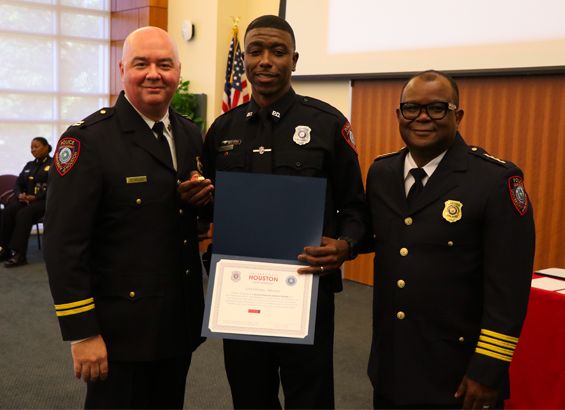 Choosing to stand between citizens and potential danger is a commitment every University of Houston Police Department officer makes on a daily basis. Their level of dedication ranges from escorting a student or employee to their car at night, to simply unlocking a car when the key is trapped inside. Then there are those critical times when police officers are called upon to save a life.
When those dire calls came this spring, UHPD Officers Joseph Square and Kurt Smith and University of Houston-Victoria Officer Stuart Sherman never hesitated to stop and render aid. Because of their meritorious actions, they are the recipients of the 2018 Lifesaving Awards presented at the May 7 UHPD Badge Pinning and Awards Ceremony.
"Their swift, decisive action exemplifies the best qualities we expect from UHPD officers," said UHPD Field Operations Captain Russell Miller while sharing his officers' stories.
Officers Square and Smith were recognized for intervening during a precarious and vulnerable moment for a UH student in the midst of a personal crisis. Their training, compassion and a desire to help led to a successful outcome for the student.
"Being a parent, I do everything that I would want someone to do for one of my kids," shared Square, who has worked as a UH officer for more than 10 years. "I love serving the UH community. The best thing about it is the interaction with the kids."
Sherman was off duty when an elderly woman collapsed at his church. Formerly a paramedic, he knew to immediately check her status. The woman was not breathing and did not have a pulse so he started CPR. The woman was resuscitated and successfully treated at an area hospital. As a result of his efforts, he was nominated for the award by his supervisor, Sergeant Travis Gundelach. As it turns out, the rescue was a family effort.
"The best part of the day was when my paramedic son shows up as the driver of the ambulance," Sherman said. "It is not often that a father and retired paramedic gets to see the son that is coming up."
Inspired by the successful outcome at the church, Sherman plans to offer a CPR first aid class at UHV at the end of this month for staff members. He hopes the class will provide the necessary skills for them to be that critical factor during a life or death situation, because saving a life is always the goal.
In addition to lauding the efforts of these officers, leadership promotions and new officers were recognized and commissioned during the badge pinning ceremony. Children, spouses and loved ones played an important role in these officers' pledge to service at UHPD by assisting with the badge pinning.
While the new cadre of officers has a broad background ranging from a civil engineering graduate to a former journeyman electrician – and so much in between – these new officers are united in their desire to serve the community they call home.
Police Promotions
Police Captain: Andrea Black
Police Corporal: Monica Ochoa
Police Commissioning
Police Officers:
Nancy Cadenas
Marco Daza
Jack Henderson
Montea King
Angelica Nunez-Rivera
Gregory Sloan
Security Promotions
Security Officer Lead: Kylie Jones
Police Dispatch Promotions
Dispatcher II: Bianca Polk
---