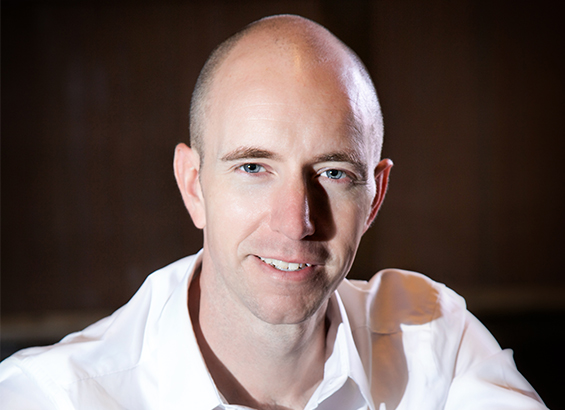 A nationally known expert in piano pedagogy, the study of the teaching of piano playing, has been named director of the Moores School of Music at the University of Houston. Courtney Crappell has been interim director since December. He steps into his new role Friday, June 1.
Crappell succeeds Andrew Davis, who now serves as founding dean of the Kathrine G. McGovern College of the Arts. Davis's search for a new director took him across the nation, only to find his leader in Crappell—whose office is literally across the hall.
"Courtney is someone who understands and appreciates the value of being able to, as an administrator, make a positive impact for students, faculty and patrons alike," Davis said. "He will bring the Moores School to new levels of excellence. We are fortunate to have him on the leadership team in the McGovern College."
Crappell joined the Moores faculty in 2014 as associate professor of piano and piano pedagogy. Prior to UH, he held the same position at the University of Texas at San Antonio.
His academic journey started as a young boy when he fell in love with academia and dreamed of becoming a piano teacher, rather than performing under the bright lights of the stage in front of hundreds of people.
Piano pedagogy is such a niche market. Where does your love for teaching come from?
My mother. I was homeschooled as a child and she was the one who really instilled a love of learning for me. My younger sister and I grew up without a television. Books are what we did. I think I read every book in the children's section of the library in our small hometown of Houma, Louisiana.
In the world of piano, you started pretty late – unlike most students who begin taking lessons as young as three.
I started self-teaching at the age of 12. Then at 14, I started working to pay for my lessons. At 16, I began working in an auto repair shop and eventually became a certified auto mechanic. Throughout this period, during my lunch hour, I would run home and practice piano. My piano scores at that time had greasy stains on the edges. I practiced like crazy because it's what I wanted to do. I actually didn't know piano performance was a career possibility until I started college. My focus was always on teaching.
As director, what will be your strategy for positioning the school as the foremost institution for music education and performance in the nation?
The Moores School of Music just celebrated its 20th anniversary. Now we are looking forward to its 25th—or silver— anniversary. One of my priorities is launching a "Silver Scholarship" drive this fall to grow our endowment by $10 million over the next five years. This will fulfill a critical need for recruiting, retaining and attracting the top students in the nation. Another community-based initiative I am working on is creating an internship opportunity for voice students with the Opera in the Heights.
Life is about to get even busier for you. What do you do on your spare time?
I have three young children – a girl and two boys. So I spend my spare time flying kites, playing with Legos and riding skateboards.
---