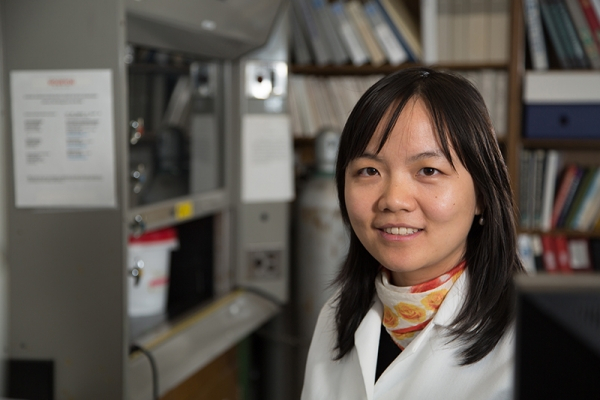 The dangers of lead – in paint, in drinking water – have been known for decades, but there are drawbacks to many of the home test kits available to determine whether drinking water is safe.
Yandi Hu, an engineer at the University of Houston, is working to change that.
Hu, assistant professor of civil and environmental engineering, is using a $50,000 grant from the National Science Foundation's I-Corps program to conduct market analysis for the low-cost kit developed in her lab for fast detection of low-level lead concentrations in water.
The I-Corps program is part of NSF's efforts to develop a national innovation ecosystem; researchers accepted into the program have had previous work funded by NSF and, under I-Corps, receive additional support in the form of entrepreneurial education, mentoring and funding to accelerate the transition from fundamental research into emerging products and services.
Hu was funded by NSF in 2016 to study the effectiveness of adding phosphate in water lines to lower lead concentrations in tap water, an issue brought to public attention by the crisis in Flint, Mich., where dangerous levels of lead were found in residents' tap water in 2015. It turned out the city had switched from Lake Huron to the Flint River for the city's drinking water; because the water wasn't treated with an anti-corrosive agent, such as phosphate, lead in the water pipes began leaching into the water supply.
While conducting heterogeneous nucleation of lead phosphate, Hu was inspired to develop a special coated strip, which can greatly enrich lead from water onto the strip.
Most current commercially available water test kits are only able to detect lead at relatively high levels or are relatively expensive, about $12 per test, Hu said, making them unaffordable for daily testing.  
The Hu lab's test kit can detect lead at levels just above 15 parts per billion, which is the action level identified in the federal government's Lead and Copper Rule, and it will cost as little as $2 per test.
It works by placing a treated test strip – what Hu calls "magic paper" – in as little as five milliliters of water for five minutes. A commercially available reagent can be used to determine if lead is present.
She has filed for a patent for the test strip coating, which concentrates lead in the water in order to accurately test for lead at low concentrations.
In the meantime, the I-CORPs grant has allowed Hu and two doctoral students in her lab to consider the business aspect of commercializing their technology. That has involved studying the potential market for the test, from how many potential buyers might be out there to how much they would be willing to pay.
"It's a very good experience," she said. "You change your view from that of an engineer to a businessperson."
---