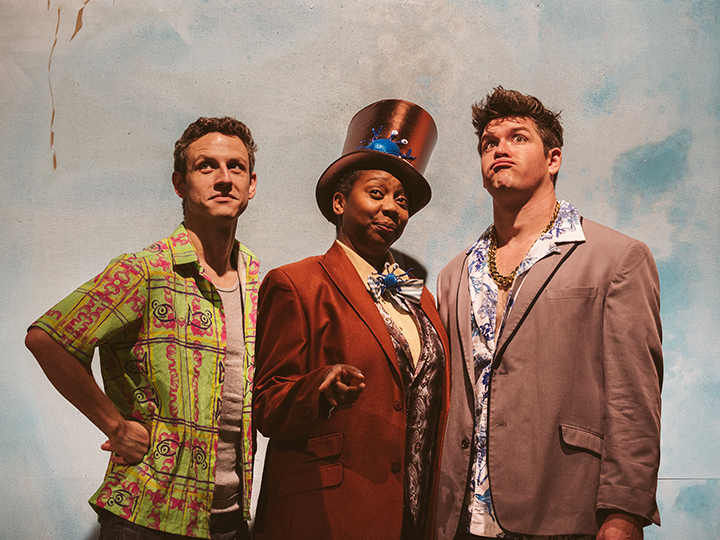 There's no mistaking the charms of Crash Buist and Andrew Garrett. Their jovial banter is sure to captivate audiences when the comedic duo brings their slapstick humor to the stage in the Houston Shakespeare Festival's "Comedy of Errors". The University of Houston-produced festival runs Friday, July 27 to Sunday, Aug. 5 at Hermann Park's Miller Outdoor Theatre.
One of Shakespeare's earliest works, "Comedy of Errors" tells the story of two sets of identical twins who were separated at birth by a shipwreck only to be accidentally reunited years later. Buist and Garrett play both sets of twins. Two men playing four roles, it's a deviation from the original script that requires four actors.
Buist plays Antipholus of Syracuse, who has been traveling the world to find his long-lost twin brother Antipholus of Ephesus. Garrett plays the bumbling comical twins Dromio of Syracuse and Dromio of Ephesus, who are wingmen to the Antipholus brothers.
"We have two guys who are fire hydrants exploding of comedy," said Jack Young, HSF artistic director. "They play brilliantly together. These guys feed off each other with a certain kind of energy and fun. Everyone just has to hang on and keep up."
The gentlemen – both from the Houston-area – have been honing their comedic chops since graduating from UH's reputable Professional Actors Training Program. It's also where they met and established their so-called "famous rapport."
Since graduating, Buist has appeared in several commercials, written, directed and starred in a short sci-fi thriller film and is now scouting locations in Houston to produce a feature film. Garrett recently wrapped up production of Shakespeare's "Much Ado About Nothing" with the New York-based TITAN Theatre Company (co-founded by another UH alumna). He also spent time on the road with the National Players touring company and continues to make a name for himself in the theater circuits.
As UH students you both participated in the Houston Shakespeare Festival. Now that you are working, professional actors, what is it like to return home and reunite with the company?
Buist: It's exciting to come back and work. It's a real gift to be able to work with artists who share a common parlance in how we communicate about the art we are doing and to be greeted with a level of professionalism that you sometimes don't find in bigger cities.
Garrett: It's fantastic. Along the lines of having the same parlance, it's just sharing the same vocabulary and the training. The way the training is here, if the director (Jack Young) wants a very specific thing, here we all understand. The way Jack is going to tell us is exactly what he is looking for.
We all know "Comedy of Errors" is about mistaken identity. With rehearsals underway, have you run into your own mistaken identity with your characters?
Buist: Absolutely. No question. From walking on one stage, talking like one twin and saying lines as the other twin, to not knowing which Dromio (to Garrett) you were.
Garrett: There have been times in rehearsal where— I've seen Crash do it and I've done this myself— walk off-stage and within seconds and wonder, "Where do I need to be in the next minute. Do I need to be downstage right, do I need to be downstage left, who am I?"
What has doing Shakespeare plays taught you about being an actor?
Buist: They've not only helped me to grow as an actor, but have also contributed to my growth as a human being. It's soulfully rewarding to play the rich characters in these plays, and it's enlightening to be a part of other gifted artists' processes as we develop these shows. Shakespeare's characters are dynamic, intelligent and the words they speak were written by someone who could empathize and articulate the human condition, which hasn't changed that much in 400 years.
Garrett: I think one of the main reasons I enjoy doing this is because it offers a very special way of reaching people that potentially exposes them to new ideas. But these stories have very deep, human issues. All characters go through something.
You mentioned your famous rapport. Elaborate on that.
Garrett: Oh boy. Crash and I have always had a bit of an eclectic sense of humor. We pull from many different sources. We can have very light humor or very dark humor that's just between us. We cover the range.
Buist: There are jokes that only Andrew and I think are funny just because we tried it. Having someone who shares your sense of humor and will go on the ride with you creates not only a collaborative but also a comedic environment where you can push boundaries.
Audiences can catch this duo during the Houston Shakespeare Festival. Shows at Miller Outdoor Theatre are free and open to the public. The 2018 schedule is as follows:
"Hamlet" – July 27, 29, 31; Aug. 2, 4, 8:15 p.m.
"Comedy of Errors" – July 28; Aug. 1, 3, 5, 8:15 p.m.
---