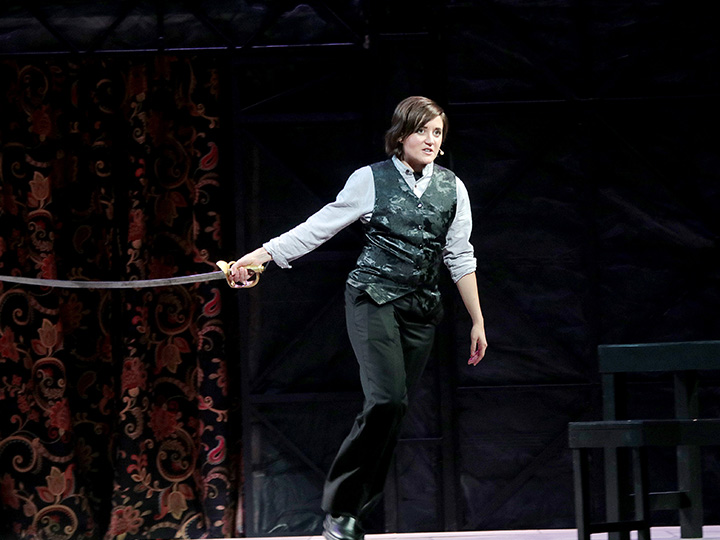 Playing powerful roles in Shakespeare's plays is nothing new for Shannon Hill who joined the theater at the age of nine. Since then, she has had a "fierce desire" to share her Shakespearean passion with others.
Hill, a graduate of the University of Houston Master of Fine Arts Professional Actor Training Program is returning to Houston to star as Hamlet in the 44th season of the Houston Shakespeare Festival. This will be the sixth production of "Hamlet" in HSF history, and the first time a woman is taking on the lead role.
"Shannon has the smarts, the generosity, the endurance and the craft to take on this 'decathlon of acting roles' and deliver it to several thousand people in a space the size of Miller Outdoor Theatre," said Jack Young, HSF artistic director.
The UH-produced festival runs Friday, July 27 through Sunday, Aug. 5 at Hermann Park's Miller Outdoor Theatre. With rehearsals underway, Hill took a moment to share her thoughts on playing one of Shakespeare's most iconic characters.
You've played Rosalind, the heroine and protagonist in "As You Like It," and Cassius, the incisive conspirator in "Julius Caesar". Here you are, about to play Hamlet. How is this role different?
First of all, it's a beast of a role. Hamlet has about a third of the lines in the show, not to mention he goes on a pretty epic journey. Hamlet is almost a "coming of age" story. The audience watches Hamlet go from an unsure young man to a prince willing to take responsibility for his actions. He is ambitious in his pursuit of truth and justice.
What did you do to prepare for the role of Hamlet and its physical demands? 
I looked through past performances, read analytical and performance material, and watched clips or full productions of many Hamlets. Physically, I've been doing at least 30 minutes of aerobic exercise five times a week, adding a couple of sessions of yoga every week and doing a vocal warm up every day. 
It's not new for a woman to play male roles in Shakespeare's plays today; however, there is still a significant gap in the roles available between men and women. How has your role as an artistic director provided you the leverage to change these standards?
While I was at Festival 56, a professional theatre in Princeton, Illinois (117 miles west of Chicago), one of my proudest accomplishments was crafting a "Season of Equality" during the year of the Women's March. We reflected this concept in our casting choices as well. The usual statistic of male/female roles in theatre is 3/1. In our core company that season, we cast 12 women and four men, literally reversing that statistic. I was thrilled that we were able to provide that much opportunity for women.
Why did you choose UH for your masters?
It was the only school that challenged me to go beyond what I thought I was capable of during my audition. I wanted a program that would push me, dare me and throw down a gauntlet. UH fit the bill.
How has your time at UH contributed to your success so far?
As an entrepreneur, one of the most important things UH taught me was networking. I have definitely had a leg up in auditions since graduation because I "knew someone". As an actor, I learned a lot about personalization and "crafting" a role, both emotionally and technically, through detail work. As a director, the technique we learned has given me a discerning eye that I have used while directing anything from Shakespeare to modern musicals. And as a human, I met my wonderful fiancé through the program.
The Houston Shakespeare Festival is produced by the UH School of Theatre & Dance. Performances at Miller Outdoor Theatre are free and open to the public. The 2018 schedule is as follows:
"Hamlet" – July 27, 29, 31; Aug. 2, 4, 8:15 p.m.
"Comedy of Errors" – July 28; Aug. 1, 3, 5, 8:15 p.m.
---