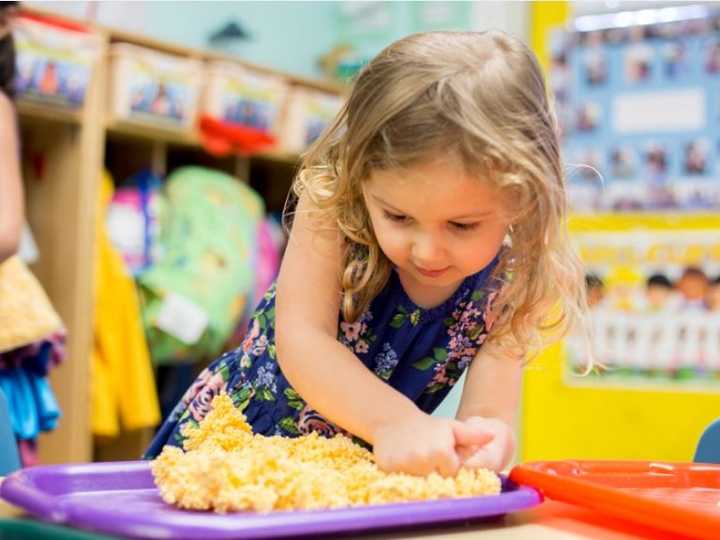 University of Houston students with children enrolled at the UH Children's Learning Centers (CLC) got a boost from the U.S. Department of Education through a $2.2 million grant for campus child care. The four-year award from the Federal Child Care Access Means Parents in School Program (CCAMPIS) will support up to 60 percent of tuition costs for children at the university's child care centers.
CCAMPIS is a highly competitive grant; UH is one of only six colleges and universities in Texas funded in 2014-2018 grant cycle.
"This grant makes quality child care not only accessible but affordable for our college students," said Jennifer Skopal, director of the centers, which opened in 1975 amid a backdrop of feminism. Since 2010, CLC has awarded eligible student parents over $1 million in child care tuition assistance.
"A lot of our parents tell us that our center provides them with a consistency of care they have been lacking," Skopal said. "We're open five days a week from 7 a.m. to 6 p.m., and they know they can bring their child to campus and then they can focus on school."
It's no small issue. According to the Institute for Women's Policy Research, affordable, quality child care is crucial to postsecondary success of the 4.8 million undergraduate students raising dependent children.
One student's story
One of those undergrads is 21-year-old Kylie Moss, a junior majoring in mechanical engineering. In May her son, 5-year-old Levi, graduated from the pre-school program on campus. Degree in hand he proclaimed, "I graduated from the University of Houston before my mom!" It's true; he did.
"With Levi really close to me at the Children's Learning Centers, the peace of mind has been incredible," said Moss. "Before we enrolled here it was impossible for me to participate in group projects because I would have to run home to Dickinson and pick him up from day care and then just study at home because it was so far away," said Moss, who also holds down a part-time job at an oil company.
The UH CLC is accredited by both the National Association for the Education of Young Children (NAEYC) and AdvancED. Both groups promote high-quality learning and ensure that all children realize their full potential. The CLC has 14 classrooms, 28 fulltime teachers and serves up to 221 children age three months to five years.  
Despite the growing number of what was once called "nontraditional" students, CCAMPIS funding had remained stagnant for 15 years before Congress more than tripled funding in 2018.
Now called independents, these students comprise the new college majority in the United States. In 2012, over half of all U.S. college students (51 percent) were defined as independent, meaning they were either married, a member of the armed forces or a parent, among other qualifying categories.
Under the CCAMPIS grant, schools can apply for 1 percent of the total amount of Pell grants awarded their student body. At UH, that turned out to be approximately $559,000 annually for the upcoming four-year cycle.
"Receiving this highly competitive grant is meaningful in our mission to provide exemplary early childhood services to UH families," said Skopal. "While the university focuses on attracting top students, we provide these support services allowing them to put forth everything they have into their education to be the best they can be in school. We see the impact and benefits every day."
---