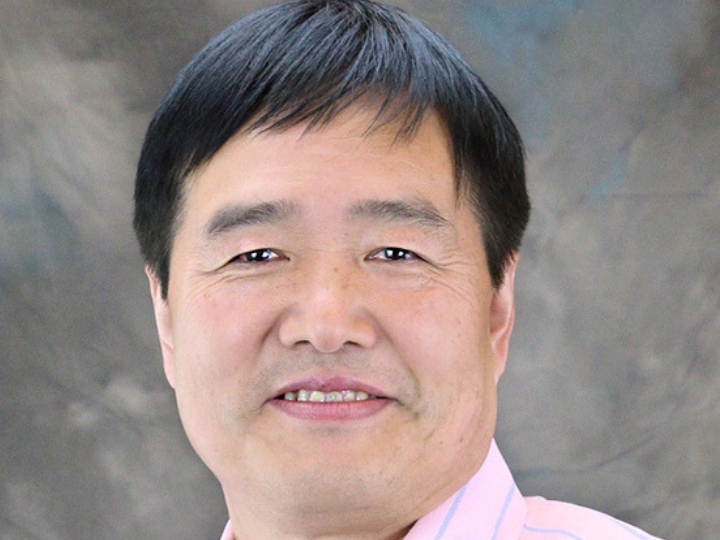 A University of Houston College of Pharmacy scientist has been named a Fellow of the National Academy of Inventors in recognition of his work in drug discovery and development.
Ruiwen Zhang, M.D., Ph.D. and Robert L. Boblitt Endowed Professor in Drug Discovery and director of the UH Drug Discovery Institute, is one of 148 new Fellows announced today. The induction ceremony for the new class of Fellows will be held at the NAI Eighth Annual Meeting at Space Center Houston in April 2019.
With over 30 years of experience, Zhang, a board-certified toxicologist and Fellow of the American Association for the Advancement of Science, has been recognized as a leader in drug discovery and development, especially in cancer prevention and treatment.
Zhang has made major contributions to the discovery of pharmacogenetic/pharmacogenomic syndrome of dihydropyrimidine dehydrogenase (DPD), the rate-limiting enzyme in 5-fluorouracil (5-FU), one of most used anticancer agents in the world. This discovery is now a textbook case in cancer pharmacogenomics and personalized cancer medicine. Pharmacogenomic approaches to prevention of 5-FU toxicity have been developed and now benefit many cancer patients worldwide. 
Zhang is one of the leading scientists developing novel gene silencing technologies using antisense technology and discovering RNA and DNA-based therapeutics. He has made major contributions to the antisense and siRNA therapeutics targeting oncogenes, HIV and other therapeutic targets. He is the first to discover and develop new antisense RNA-DNA oligonucleotides for HIV, oncogenes, and Toll-like Receptor immunomodulators (these agents have entered clinical trials). He is the first to discover a new approach to orally deliver RNA/DNA oligonucleotides therapeutics for the treatment of human diseases, now recognized as a basis for development of oral DNA/RNA drugs/vaccines for prevention and treatment of diseases.
He has made significant contributions to fundamental understanding of the tumor suppressor p53, the most important and most-studied tumor suppressor, and MDM2, one of the major oncogenes and a p53 negative regulator. Zhang is among the first proposing MDM2 as a molecular target for cancer prevention and therapy. His lab has discovered six classes of MDM2 inhibitors, including DNA-RNA oligonucleotides, natural products and synthetic small molecule compounds.
Election to NAI Fellow status "is the highest professional distinction accorded solely to academic inventors who have demonstrated a prolific spirit of innovation in creating or facilitating outstanding inventions that have made a tangible impact on quality of life, economic development, and the welfare of society." With the induction of the 2018 class, the program has more than 1,000 Fellows worldwide.
Though honored at the selection, Zhang shares the credit. "This is about recognition of the outstanding efforts of our faculty, research scientists, students, fellows and collaborators devoted to research and development of novel therapy for human diseases," he said. "We have been fortunate to have research support from the National Institutes of Health, the Department of Defense and other federal and state agencies and private foundations. Without this support, it is absolutely impossible for us to make any progress in our research."
Previously inducted fellows from UH include:
Benton Baugh, mechanical engineering, Cullen College of Engineering
the late Rathindra Bose, former vice president/vice chancellor for research and technology transfer
Diana S.L. Chow, professor of pharmaceutics and director, Institute of Drug Education and Research at UH College of Pharmacy
Paul Chu, physics professor, T. L. L. Temple Chair of Science and Founding Director/chief scientist of the Texas Center for Superconductivity at UH (TcSUH)
Allan Jacobson, Robert A. Welch Chair of Science 
Dmitri Litvinov, professor of engineering and director, UH Nanofabrication Facility
Dan Luss, chemical and biomolecular engineering
Kaushik Rajashekara, Distinguished Professor of electrical and computer engineering and professor of subsea power systems
Zhifeng Ren, M.D. Anderson Chair Professor of physics and director of TcSUH
Venkat Selvamanickam, mechanical engineering and director of TcSUH's Applied Research Hub
Mohamed Soliman, professor and department chair of petroleum engineering
Richard Willson, Huffington-Woestemeyer Professor of Chemical and Biomolecular Engineering, professor of biochemical and biophysical sciences.
---