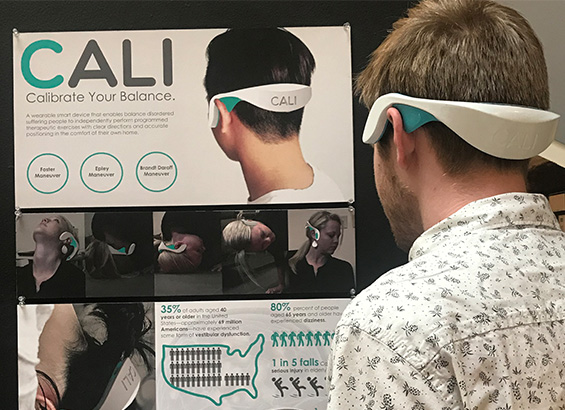 A debilitating fall that forced her grandfather to move into assisted living is what fueled University of Houston Industrial Design (ID) student Quinn Edgecombe's desire to help patients with balance disorders.
After extensive research, Edgecombe and classmate Ronnie Finger designed "CALI Calibrate Your Balance" for their ID junior studio project. It's a wearable smart device that guides users through three therapeutic exercises: Epley Maneuver, Foster Maneuver and Brandt-Daroff Maneuver. Similar to a hearing aid, this device has a bone conductor transducer that sends signals to guide the user through the procedures.
"With CALI, you can do these exercises independently and accurately in your home," Edgecombe said.
"CALI Calibrate Your Balance" will be a part of a wearable computing runway show that kicks off the opening of the "Shades of Design" Industrial Design annual exhibition on Thursday, May 3 in the lobby of the Gerald D. Hines College of Architecture and Design (4200 Elgin Street, Houston, TX 77204. Click here for a map and directions). The fashion show starts at 4:30 p.m. and is followed by the exhibition opening at 5 p.m. The designs will remain on view until Sunday, May 6.
UH is the only university in Texas that offers an Industrial Design program. Director EunSook Kwon says her students' designs have the potential to be real disruptors in the growing field of wearable technology.
"Our students are creating a new scenario for the future. This program provides them with a skillset that makes them creative problem solvers to so they can be successful," said Kwon.
ID juniors Lawrence Dillon and Timothy Joe are behind "LIMBO", a smart, wearable prosthesis for children that monitors electric impulses in the muscular system and uses that data to control smart connected objects around them. The duo explored ways to return and enhance a child's sense of control over their own body and the world around them.
"After a traumatic upper limb amputation, patients experience an intense loss of control," Dillon said. "We wanted LIMBO to incentivize a child to wear their prosthesis through a gamified experience and cool factor."
In their prototype, the pair focused on the implementation of this through a hand-gesture controlled drone, but added that the concept could easily expand to other products.
Fast, custom footwear. That's the idea behind "Colorshift", a digitally manufactured, customized shoe that relies solely on technology. It uses a "fast factory" business model-- locally produced-- that involves 3D printing of a customer's foot and laser cutting of sustainable materials.
"Consumers always want the next, latest thing in fashion," said ID senior Jonathan Seto. "The lightweight, perforated sport cloth and knitted cotton materials give the consumer a much more unique and better fitting shoe that has support in the heel, arch and toes."
---