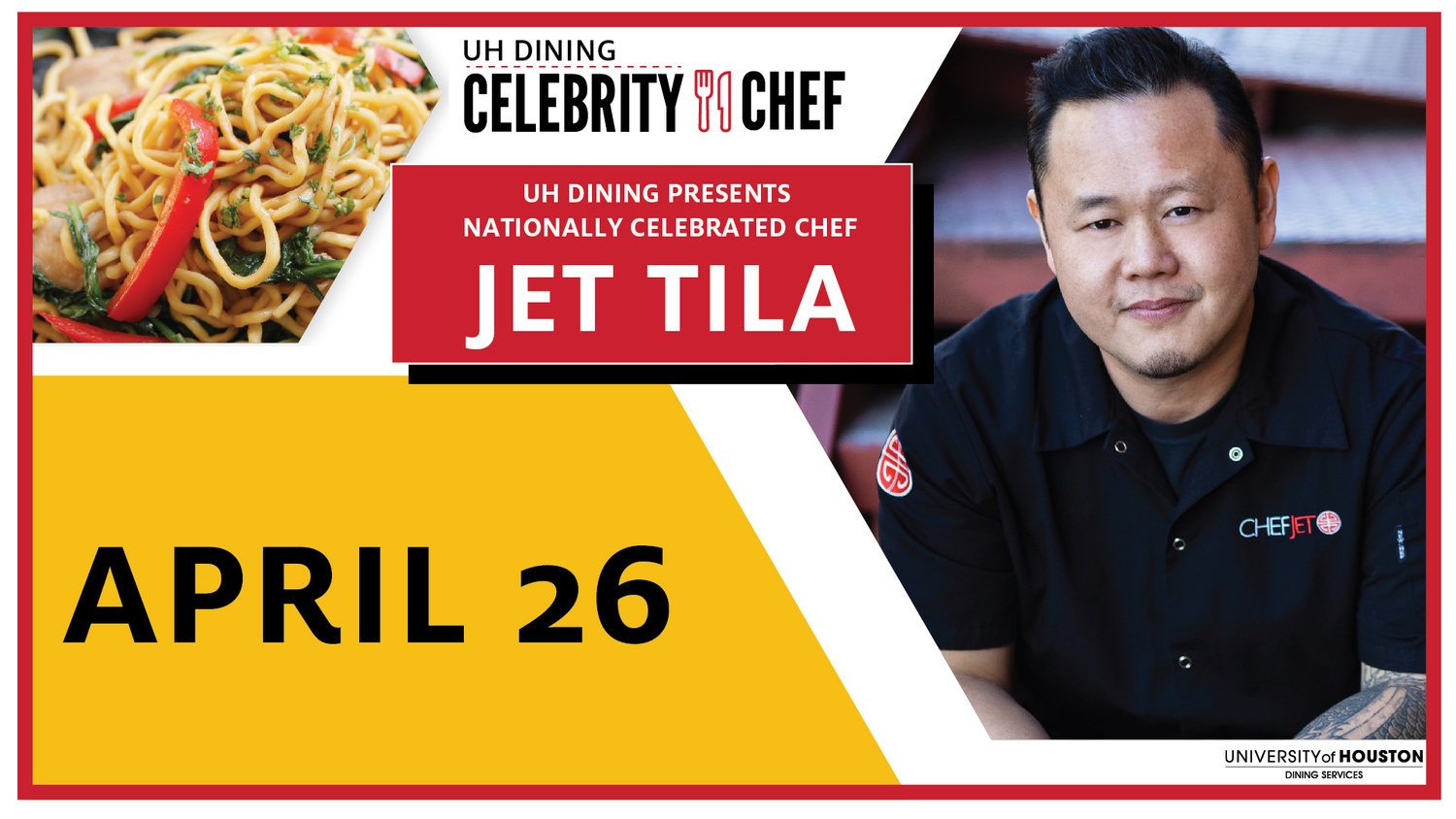 Nationally celebrated chef and restaurateur Jet Tila will visit the University of Houston to serve up some tasty Asian cuisine to the campus community in the latest celebrity chef event presented by UH Dining.
Tila, who makes regular television appearances, will be at the Mongolian Grill Station in Moody Towers Dining Commons on Thursday, April 26 from 10:30 a.m. to 3 p.m. He'll be cooking some of his exclusive recipes including Teriyaki chicken and Thai barbecue chicken. A limited number of signed photographs will be available, and there will be a drawing for one of 10 Chef Jet's "101 Asian Dishes You Need to Cook Before You Die" cookbook!
Tila specializes in all styles of Asian cuisine. As a child, he spent time learning the ancient traditions of classical Asian cuisine in his family's restaurants and at the Bangkok Market, America's first Thai grocery store and importer in Hollywood.
"I call it birth luck," Tila notes in his biography. "I was born into the 'first family' of Thai food in Los Angeles. My parents came here separately in 1966 and went on to open the first restaurants and grocery stores in this country and I was the kid doing homework in the back corner of the restaurant."
Tila's Le Cordon Bleu education, coupled with his extensive knowledge of Asian gastronomy, has given him a wide range of ideas to draw upon to create incomparable and innovative cuisine.
The highlights of Tila's active television career to date include judging Food Network's "Chopped," and regular appearances on "Cut Throat Kitchen" and "Iron Chef America." Learn more about chef Jet Tila here.
This is the second in a series of celebrity chef events hosted by UH Dining. James Beard Award-Winning chef Hugo Ortega headlined the inaugural celebrity chef event in February, focusing on sustainable culinary delights. Attendants discovered the practice of using insects as food, from how it impacts the environment, to how it fits into a healthy diet and can please a discerning palate.
Who: Celebrity Chef Jet Tila
What: Celebrity Chef Event presented by UH Dining
When: Thursday, April 26 from 10:30 a.m. to 3 p.m.
Where: Mongolian Grill Station in Moody Towers Dining Commons
             4401 Cougar Village Dr., Houston, TX 77204
---