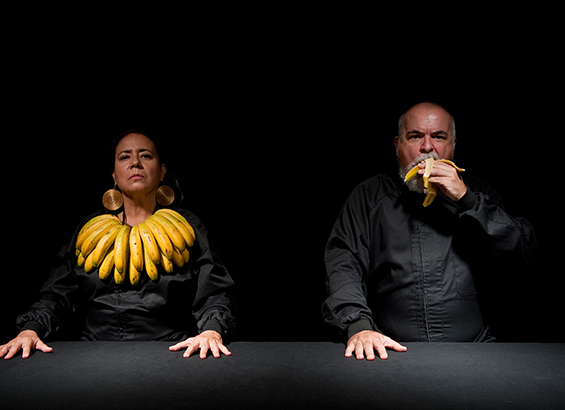 Whether it's politics, entertainment or the workplace, the topic of women's empowerment has been the center of many discussions lately. It has also inevitably emerged as a theme of this year's CounterCurrent18 Festival, which runs Tuesday, April 10-Sunday, April 15 in various locations across Houston.
"Our fifth annual CounterCurrent festival revels in the art of our time, shining particular lights on art by women and geographic migration," said Karen Farber, director of the Cynthia Woods Mitchell Center for the Arts at the University of Houston, which produces the festival. "With our artists leading the way, CounterCurrent18 is more relevant than we could have imagined."
CounterCurrent18 features cutting-edge contemporary and collaborative works, including audio and video installations, live performances and participatory events by artists from around the world. Highlights of this year's event include:
"Patronas y Conductas" by UH graduate Elia Arce features a performance and interactive workshop based on the exhibition and ethnographic art project "Contemporary Casa Portaiture: Nuestra 'Calidad'" by Chicana artist and associate professor of Art, Delilah Montoya. They examine the structure of power in today's society versus colonial power struggles and the global shift of values.
"Race Cards" by British artist Selina Thompson takes place in a room containing 1,000 questions about race and racism in modern society. Among the questions being asked are: "Are you black, or are you the 'new black'?" or "Why do people assume that racism will just passively die out of we wait long enough?" Visitors are encouraged to answer one of them. In addition to the installation, Thompson will ask all 1,000 questions in a performance.
"Bronx Gothic" is a film portrait of writer, performer Okwui Okpokwasili. She is a Mitchell Center and Project Row Houses Artist in Residence. In this one-woman show, Okpokwasili gives us a look at what it means to be a black girl coming of age in the 1980s.
"CounterCurrent18 highlights strong voices from women and artists of color during a time where these stories and perspectives feel increasingly essential," said Pia Agrawal, Mitchell Center program director. "The stories being told this year range from deeply personal to globally significant, allowing audiences to find parallels to their own experiences in so much of the work."
Click here for a complete line up of events, their locations and ticket information.
---