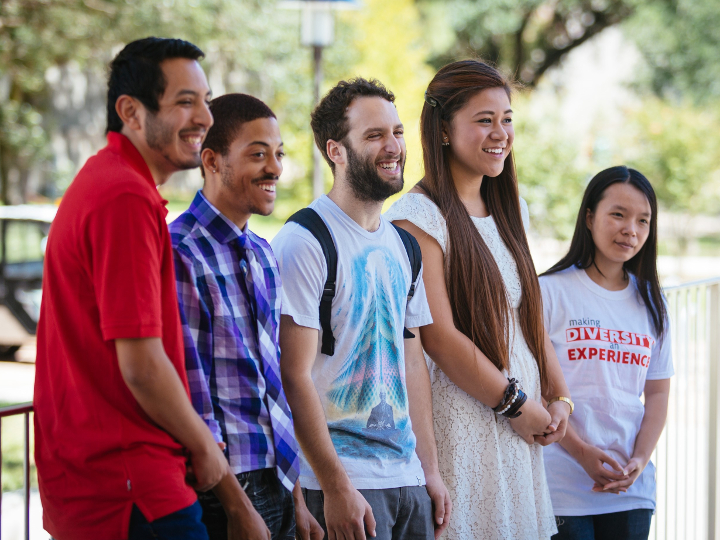 The University of Houston and two of its divisions have been honored with the Higher Education Excellence in Diversity Award for the second year in a row.
The HEED awards, presented by INSIGHT Into Diversity magazine, are the only national honor recognizing U.S. colleges and universities that demonstrate an outstanding commitment to diversity and inclusion across their campus.
In addition to the university-wide award, the UH Law Center and UH College of Nursing were honored. Both colleges and the university received the awards in 2016, as well.
"I am elated that the University of Houston has distinguished itself on the forefront of diversity for a second year" said Paula Myrick Short, UH senior vice president for academic affairs and provost. "Last year, UH made history as the first institution to win three HEED awards in a single year, and it is gratifying to know that we are continuing to move the needle on diversity at our university."
The University is one of the most ethnically diverse in the country. For the 2016-17 academic year, 29.2 percent of students were Hispanic, 26.8 percent were white, 20.6 were Asian American and 9.7 percent were African-American. Almost 10 percent were international students. Three percent identified as multiracial. UH also has focused on improving faculty diversity, aided in part by a $3.3 million grant from the National Science Foundation to increase the number of underrepresented minority faculty in science, engineering and other technical fields.
Although the numbers remain small, the number of underrepresented minorities hired for STEM and social and behavioral sciences faculty jobs at UH doubled between 2015-16 and 2016-17. University-wide, the increase in underrepresented minority faculty in tenured and tenure-track positions has increased by 23 percent over a three-year period.
Law Center Dean Leonard Baynes said the HEED award highlights not just the numbers, but the impact of the numbers.
"It is a humbling experience for the Law Center to be recognized two years in a row. It shows that the Law Center's considerable efforts at diversity and inclusion are garnering notice," he said. "But most importantly, it is satisfying that our programs are having an impact in everyday people's lives."
Kathryn Tart, founding dean of the College of Nursing, said increasing the diversity of the college's student body is essential for the health care workforce of the future.
"This builds a critical connection between culturally diverse health-care providers and culturally competent patient care," she said.
Lenore Pearlstein, publisher of INSIGHT Into Diversity magazine, said HEED award winners are chosen based on recruitment and retention of students and employees, along with leadership support for diversity and other aspects of campus diversity and inclusion.
 "We take a holistic approach to reviewing each application in deciding who will be named a HEED Award recipient," she said. "Our standards are high, and we look for institutions where diversity and inclusion are woven into the work being accomplished every day across their campus."
UH is recognized as the second-most diverse public research university in the nation by U.S. News & World Report. It is designated as a Hispanic-Serving Institution (HSI) and an Asian American Native American Pacific Islander-Serving Institution (AANAPISI) by the U. S. Department of Education.
For more information about the 2017 HEED Award, visit www.insightintodiversity.com.
---