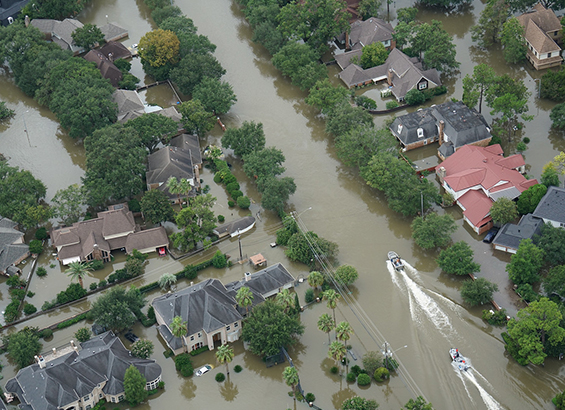 As Hurricane Harvey inundated Houston, a group text message began ricocheting between researchers at the University of Houston Center for Public History. Assured everyone was safe, the focus quickly shifted to what stands to become the biggest oral history project ever undertaken by the university.
"We were all in our homes watching this event unfold and thought, 'We need to document this right away'," said Monica Perales, Center for Public History director.
And with that, "Resilient Houston: Documenting Hurricane Harvey" became the center's newest and most significant oral history project to date. Its mission is to find and record untold stories about life during and after the storm. It is a collaborative, interdisciplinary effort between faculty, staff and students, who are using their connections to gather stories from the city's diverse communities and various industries torn apart by the storm.
In just a short period of time, the team swelled to nearly two dozen people. That number is expected to grow as the mission evolves.
The oral histories will follow five themes to provide a snapshot of the storm – from landfall to recovery:
Neighborhood narratives
Feeding a flooded city
Emergency Medical Services and first responders
Impact on Houston's energy industry
Flood abatement and control
 As with previous projects, the goal is for the past to help shape the future.
"One of the things that makes oral history so special is that it provides documentation that doesn't exist anywhere else," said Todd Romero, associate professor of history and co-director of the project. "It can be used to understand where policy decisions sometimes intersect with the needs of communities. Oral history reveals the human and community face of an event like Hurricane Harvey."
The UH Center for Public History has been recording notable events for more than 30 years and has been a leader in the field of public history in the city, state and the United States.
"These disasters are part of life on the Gulf coast now, and part of what we are in the business of doing is documenting the life of the city and the history of the city. This is a vitally important piece of it," Romero added.
"History doesn't just live in textbooks or classrooms," Perales said. "It lives all around us."
---