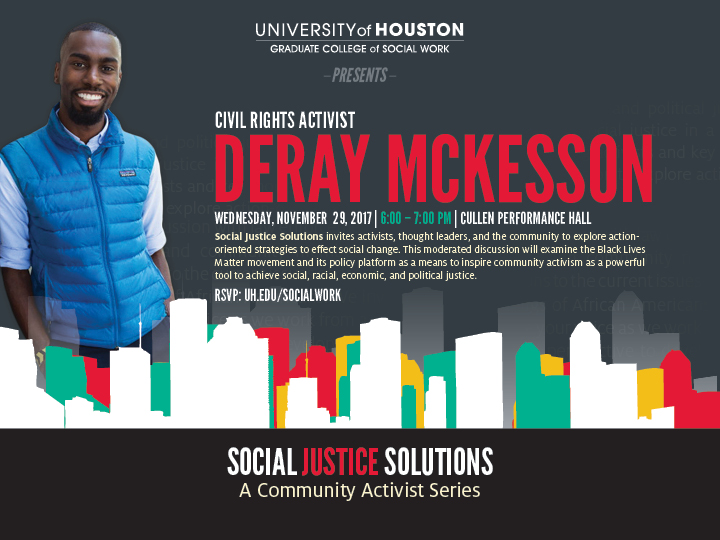 The University of Houston Graduate College of Social Work will host a community forum as part of its Social Justice Solutions series, to examine the Black Lives Matter movement and its policy platform. Civil rights activist DeRay Mckesson will take part in the moderated discussion, followed by a question and answer session. The goal of the forum is to inspire informed community activism as a tool to achieve social, racial, economic and political justice.
The event scheduled for Wednesday, Nov. 29, from 6 p.m. – 7 p.m. at Cullen Performance Hall continues the conversation that began during the inaugural 2016 Social Justice Solutions series dealing with issues of deadly force and fatal police shootings of African Americans.
Mckesson is a leading voice in the Black Lives Matter Movement and co-founder of JoinCampaignZero.org, MappingPoliceViolence.org and OurStates.org.  Spurred by the death of Mike Brown and the subsequent protests in Ferguson, Missouri, and beyond, Mckesson has become a key player in the work to confront the systems and structures that have led to mass incarceration and police killings of black and other minority populations.  He is the host of Pod Save the People, a podcast examining culture, social justice and politics.
"Over the last several years, issues of social and racial justice have taken center stage as our nation grapples with issues of continued injustice," said Alan Dettlaff, dean of the Graduate College of Social Work. "As a college of social work, promoting social justice and striving to end discrimination and oppression are core values of our profession and written into our code of ethics. We are committed to leading these difficult conversations and working together as a community to explore solutions in order to achieve social, racial, economic and political justice for all."
Who: University of Houston Graduate College of Social Work
What: Social Justice Solutions series featuring civil rights activist DeRay Mckesson
When: Wednesday, Nov. 29, 6 p.m. – 7 p.m.
Where: Cullen Performance Hall (map)
             4800 Calhoun Road
             Houston, TX 77004
The Social Justice Solutions series invites activists, thought leaders, and the community to explore action-oriented strategies to effect social change.
---