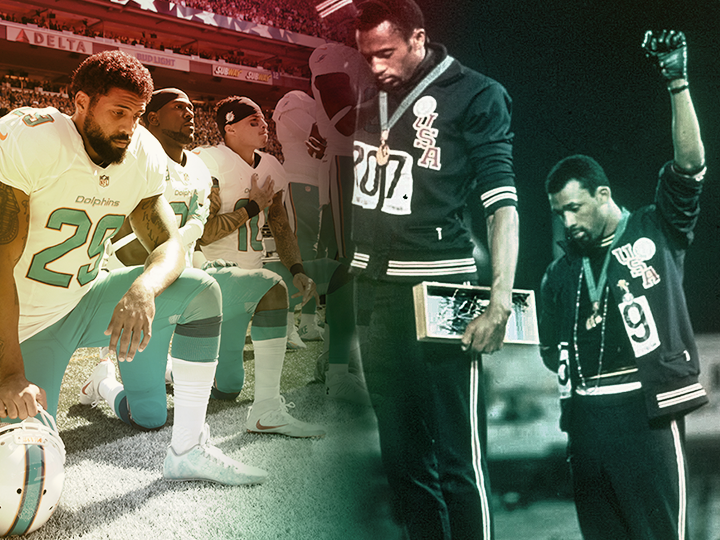 It's been more than a year since former San Francisco 49ers quarterback Colin Kaepernick took a knee for the first time during the national anthem. Since then, many other NFL players have followed suit sparking intense national debate. While some support the #TakeAKnee movement and its participants' focus on bringing awareness to racial oppression, others denounce it as out of place or blatantly disrespectful to our flag, nation and military.
To examine how social activism intersects with sports, race and media in today's society, the University of Houston is hosting a panel discussion featuring athletes who have incorporated activism into their personal brand and profession — including former Houston Texans running back Arian Foster and 1968 Olympian John Carlos, along with influential academics.
"We hope to be able to facilitate an open, frank discussion where we can really talk about these issues in depth," said Temple Northup, director of the Valenti School of Communication. "As an academic institution, it is our duty to not shy away from controversial topics, but to foster a conversation where we can hear both sides."
What: "The Game Changers: From Raised Fists to #TakeAKnee"
When: Thursday, Nov. 16; 11:30 a.m. – 1 p.m.
Where: UH Student Theater, 4455 University Dr., Houston, TX 77204 (Map)
Livestream: https://youtu.be/tnY_NeNLju8
Confirmed Participants:
John Carlos: Former track and field athlete and professional football player; stood with his fist in the air on the winners' podium at the 1968 Olympics in support of global human rights.
Arian Foster: Former NFL All-Pro Running Back and the Houston Texans' all-time leading rusher; kneeled during the national anthem as a member of the Miami Dolphins.
Ed Thomas: Former All-American New Orleans recruit, University of Houston graduate and professional football player for the Tampa Bay Buccaneers and Buffalo Bills.
Gerald Horne: Moores Professor at the University of Houston's Department of African American Studies
Len Cannon (moderator): KHOU Channel 11 news anchor
"The messages and meanings associated with social activism symbols in sport are mixed, misinterpreted, or simply misused, causing the truth to be somewhat lost," said David Walsh, clinical assistant professor in the Department of Health and Human Performance. "It's important to hold conversations not only to educate people, but allow them the opportunity to reach an objective understanding on issues people care about."
Despite the recent attention, this isn't the first time social activism and sports have mixed leading to explosive results. Gerald Horne, Moores Professor of History and African American Studies, will share his opinion with the panel.
"It is important to have this conversation because affluent athletes, many of whom are millionaires, have chosen voluntarily to protest injustice," he said.  "This is not the norm in this nation.  It suggests that the problem may be deeper and more profound than some suspect."
This discussion is jointly produced by the University of Houston's Jack J. Valenti School of Communication, the Department of Health and Human Performance Sports Administration Program and Department of African American Studies.
---