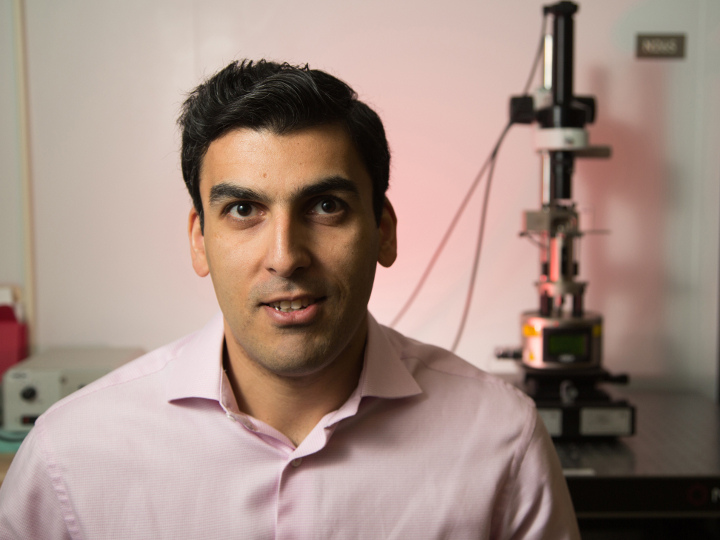 Hadi Ghasemi, Bill D. Cook Assistant Professor of mechanical engineering at the University of Houston, has received the NASA iTech prize for X-factor Innovations.
Ghasemi was one of three winners at NASA's second iTech Forum, held earlier this month at the National Institute of Aerospace in Hampton, Virginia. The forum was seeking ideas that may lead to products with the potential to benefit NASA and the nation.
Ghasemi was recognized for his discovery of an adaptive biologically inspired anti-icing material that can be applied to any surface.
His material, chosen among entries from more than 130 organizations across the United States, was inspired by a species of wood frog, which can tolerate freezing of more than half their body fluids. The new material mimics the resilient amphibian.
The newly created adaptive surface works like a pair of glasses that change to sunglasses when you walk outdoors. In this case, the material performs normally at ambient temperatures but becomes an anti-icing surface when exposed to extreme cold.
"It is an honor to launch our journey with NASA on implementation of this technology in the aerospace industry, power transmission systems, and ground and offshore infrastructures," Ghasemi said, adding that he wanted to acknowledge the work of Ph.D. student Peyman Irajizad in developing the disruptive technology.
Potential applications range from the aircraft industry – planes can encounter freezing rain or super-cooled water droplets while flying, leading to a buildup of ice and potentially, a crash – to the power industry, where icing can cause power poles, towers and transmission lines to collapse. 
Read the full press release on the NASA iTech Cycle 2 winners here: https://www.nasa.gov/offices/oct/feature/nasa-selects-top-three-itech-innovators-for-continued-collaboration
Watch a video with the NASA iTech competition winners at https://m.facebook.com/story.php?story_fbid=10158965047170285&id=33527980284
---