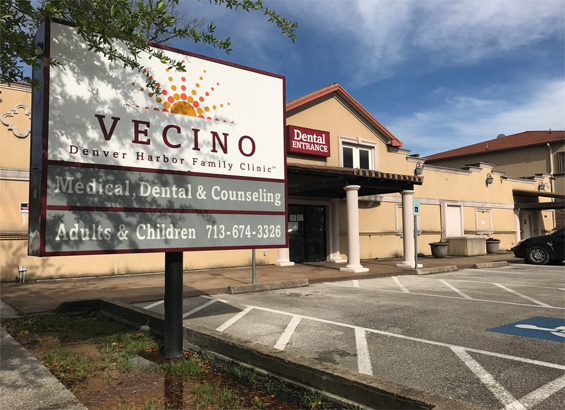 A partnership between the University of Houston College of Pharmacy (UHCOP) and Vecino Health Centers at its Denver Harbor Family Clinic is providing clinical pharmacy services to the underserved Northeast Houston community.
Two UHCOP clinical pharmacy faculty members, Bernadette Asias-Dinh and Katherine Smith, both clinical assistant professors in the Department of Pharmacy Practice and Translational Research, are embedded at the clinic to provide optimal medical and lifestyle management of diabetes and other conditions including hypertension, hyperlipidemia (high cholesterol), smoking cessation and anticoagulation.
"There's a high population of patients with diabetes here, but the clinic doesn't have a designated diabetes educator. We're happy to fill that gap," said Professor Asias-Dinh, a certified diabetes educator. "We also have prescriptive authority, which isn't widespread yet in pharmacy practice. We can adjust medications and keep a close eye on high-risk patients who have difficulty adhering to health plans."
When a 52-year-old patient who has battled diabetes for two decades continued to have elevated glucose levels and complained of "burning" around her insulin injection site, the pharmacists and patient worked together to pinpoint the problem and develop solutions. Smith adjusted the patient's insulin dosage and counseled her about proper needle placement, cleaning the injection site and allowing for the appropriate length of time for an injection. According to the American Diabetes Association, more than 29 million Americans have diabetes, and every 23 seconds another person is diagnosed with the disease.
"We develop a close relationship with each patient to set health goals and motivate them to succeed. We're a team," said Smith.
Many patients have trouble adhering to a consistent medication routine for various reasons including cost, forgetfulness or cultural misunderstandings. The majority of patients at the clinic speak only Spanish. Both UH pharmacists are proficient in Spanish.
Cultural sensitivity is one of the most important aspects according to Smith. "You have to provide treatment options that a patient can incorporate into his or her lifestyle and tailor health education to the needs of the patient."
The clinic will also serve as a site for interprofessional education where UHCOP students gain valuable hands-on training and experience working alongside medical students and medical residents. The UH College of Pharmacy also offers a Hispanic Healthcare Certificate Program, designed to recognize students' competencies in delivering linguistically and culturally appropriate pharmacy services in Spanish-speaking, Hispanic patients.
"Universities have several ways in which they can impact the health of their communities.  They can train the next generation of practitioners who will eventually work in the community. They can perform research to improve the quality or delivery of care, or they can put their expertise in the field to directly impact the community around them.  The University of Houston has chosen to do all of these," said Dr. Donald Briscoe, medical director of Vecino Health Centers. "This will result in both immediate and long term benefits for the health of the citizens of Houston."
More than 10,000 Houstonians receive medical, dental and counseling services from Vecino Health Centers whose mission is to fill the need for high-quality, affordable health care to medically underserved communities.
---