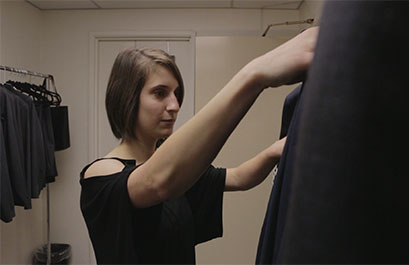 With commencement just around the corner, many University of Houston students are lining up job and graduate school interviews or going to career fairs to meet potential employers.
Looking for the right suit to make that great first impression can be costly, but a new service at University Career Services (UCS) called Career Closet is now available for all UH undergraduate and graduate students. The UCS Career Closet helps students suit up for success without leaving campus or spending a lot of money.
In most cases, lack of finances or time hold students back from buying business professional clothing.  That is why Monica Thompson, executive director at UCS, championed the idea to offer students low-cost suit rentals for their interviews, networking events and career fairs. Students can rent a suit for up to three days for $10, which covers dry cleaning costs.
"It's convenient and immediate," said Thompson, whose team helps students with their resumes, cover letters, and interview preparation and attire. "Employers will make their first impression of you in the first five to eight seconds, so you want to look your best."
Located in Student Service Center 1, the closet offers men and women's suits of all sizes in navy, black and gray, a dressing room and 'thank you' cards to send to potential employers following an interview.
Alexandra D'Amico, a biotechnology major, needed a suit jacket for a graduate school interview but didn't have time to get to the mall, so she went shopping—right on campus.
"If you are having trouble finding a suit, you really can't beat the $10 price. You can always come back and rent it again," she said. "The suit is a nice way to stand out. You want to be remembered."
UCS is also one of the UH departments that partners with Dress for Success Houston and Career Gear. The C.T. Bauer College of Business also has a suit-borrowing service for students enrolled in the college.
 UH students can book an appointment to the UCS Career Closet through the Cougar Pathway system.
Businesses interested in donating career attire or recruiting students for internships and full time employment can contact University Career Services at ucs@uh.edu or 713.743.5100 or click here for more information. 
---