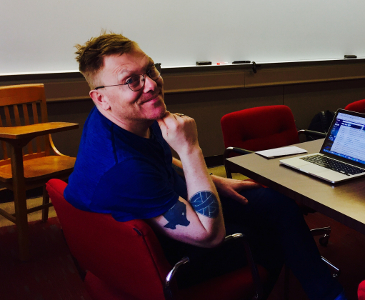 There should be no worries that Jón Gnarr will be typecast. His resume includes work as a comedian, actor and writer, followed by an offbeat and successful campaign for mayor of Reykjavik, Iceland. He's now teaching a screenwriting class at the University of Houston and speaking out on creativity and climate change.
Gnarr is in Houston for a joint energy and environmental arts residency program established by the Cynthia Woods Mitchell Center for the Arts at UH and Rice University's Center for Energy and Environmental Research in the Human Sciences.
At first, he says, it seemed like climate change would be good for Iceland. It would be warmer, right? But as mayor he realized it wasn't so simple. Ocean acidification will have implications for Iceland's fishing industry. And on a personal level, the countryside he remembers as a barren, treeless place 40 years ago now is thickly wooded, change that has come so quickly the birds haven't yet realized the fruit on apple trees is edible.
Gnarr will speak at 5:30 p.m. Wednesday, March 22, on the UH campus, in Room 116 McElhinney. He has a second appearance planned for April 27 at Brazos Bookstore, 2421 Bissonnet Street in Houston.
How did you make the leap from comedy and writing to politics and back?
After the economic crisis in 2008, I thought about writing a play about politics. Then I decided to start my party, the Best Party, to bring joy and humanity back to Icelandic politics.
I ended up becoming mayor of Reykjavik. (He served a four-year term and did not run for re-election in 2014.)
 With everything I have done, I always feel like I don't belong. I'm invited to these writing conferences and literary festivals. When I go and meet writers from all over the world, I feel I'm not really one of them. And it was the same when I went into politics, and I became the mayor – the second or third most powerful politician in Iceland. I didn't feel like a politician. I was like a political tourist.
It was so much responsibility, and I missed my creative work. Since then, I have written a book and done three TV shows. I so appreciate having time to write. It's like gold.
What sparked your interest in climate change? Are people in Iceland as divided as they are here?
It seemed quite an exciting thing for someone living in Iceland. Temperatures were going up. That seemed like a very positive thing. I wasn't concerned about it.
But after I became mayor, I started to realize this is serious. It's not just warming. It's the acidification of the oceans. Refugees. What are we as a city going to do with refugees? It is a political issue.
It's not certain what it would mean to a country like Iceland. It could, in the next 100 or 200 years, make it uninhabitable. Or it could mostly lead to some very complicated social issues.
People in Iceland are divided on the issue, as they are here. There's a generational divide – young people believe it is real, but they don't care.
I just find people are very reluctant to have a genuine interest in climate change, unless they are scientists or work in the field. The general public, they find it too complicated. Too uncertain. Maybe it's just something that makes you feel bad and powerless.
How did you end up in Houston?
When I started my political party and became mayor of Reykjavic, a lot of political scientists from Iceland were opining on what it meant. And they were all wrong. In the midst of that, I saw a paper that Dominic Boyer (an anthropologist and director of Rice University's Center for Energy and Environmental Research in the Human Sciences) wrote. He got it right.
After my term as mayor was over, he invited me to be a writer-in-residence at the center. We didn't know anything about Houston. My wife and son and I really liked it here, so there was talk of continuing.
Do you address climate change in your work?
Not directly. I find talking about climate change puts me in a political position. I'm trying to address issues about climate change without being political. I think it can be very damaging.
But I do think it's rising to the stage of something all people should be able to reach agreement on, so I wanted to write about how the climate is changing without a specific agenda. It is so much a vicious circle. We are dependent on the energy we produce, and we are somehow ashamed of it. We say, 'You use too much energy. You shouldn't use a plastic bag. You shouldn't buy a truck.' But we need the energy.
Tell me about the screenwriting class you are teaching at UH.
The idea is for the class to write a television series set in Houston, dealing with climate change. One plot point is there is a major hurricane forming in the gulf.
The point of the residency (at UH and Rice) was to focus on an environmental issue, and the TV show is a way to make it part of the general conversation. Iceland is dependent on the Gulfstream, and people don't understand what that is. In Houston, some of the students don't know much about hurricanes. They're doing research.
I think the best way to get information to young people is through television, so I am trying to find ways to make infotainment.
So yeah, why not? It's a fascinating subject.
Cover photo credit:  Helgi Halldórsson Flickr (CC BY 2.0)
---