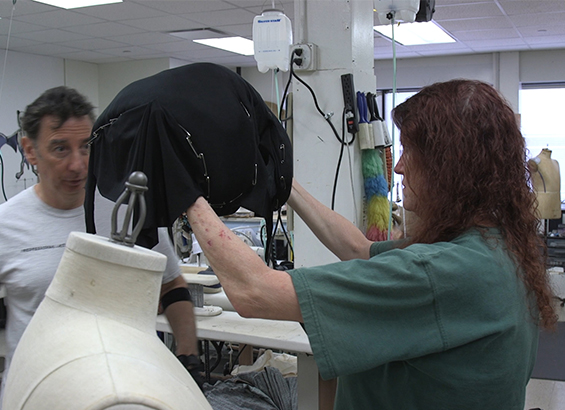 It's been 32 years since the Houston Shakespeare Festival (HSF) put on a production of "Richard III." One of Shakespeare's most evil characters returns to Hermann Park's Miller Outdoor Theatre July 29, Aug. 2, 4 and 6. "Richard III" is playing in repertory with "Twelfth Night," which runs July 28, 30; Aug. 1, 3, 5. All Shows start at 8:15 p.m.
Lenny Banovez, artistic director of TITAN Theatre Company in New York, returns to HSF to direct "Richard III," a historical thriller about a charming schemer who will do anything to become King of England—even if that means killing anyone who gets in his way.
"The world we are creating for Richard is exceptionally dangerous, a living nightmare filled with rusted metal and dark corners for things to lurk in," Banovez said. "As the play progresses, we see this world become more and more warped as Richard's reign takes hold of the space and the people in it."
Transforming into the Hunchback
In order to embody the villainous king as a limping hunchback, HSF artistic director and star Jack Young has been conditioning himself to meet the physical demands of the role.
"I've been walking on crutches, wearing a weight vest and ankle weights to prep for the prosthetic hump, leg braces and the armor that will make up the costume," Young said. "It's like training as an athlete, and playing Richard is a pretty much a 90-minute marathon sprint."
The preparation also includes changing up his workout routine and getting adjustments from a chiropractor.
"The hunchback is made out of layers of foam that's covered with batting and t-shirts to smooth it out," explained costume designer and recent UH masters graduate Leah Smith. "There also has to be patterning to go with the vest and jacket that will go over the hump. It's basically tailoring to a giant foam piece on his back."
Smith has been working with Banovez to make Richard III fit into a gothic, punk aesthetic, while keeping the traditional characteristics of Shakespeare's character.
Banovez added, "When it came to costumes, we knew we wanted a modern/sleek feel that had a gritty underbelly that, like the set, begins to reveal more and more as the play moves forward. I believe we will achieve this and then some."
Click here for complete details about "Richard III" and "Twelfth Night". Information about tickets, dates and the venue can also be found on the Miller Outdoor Theatre website.
---