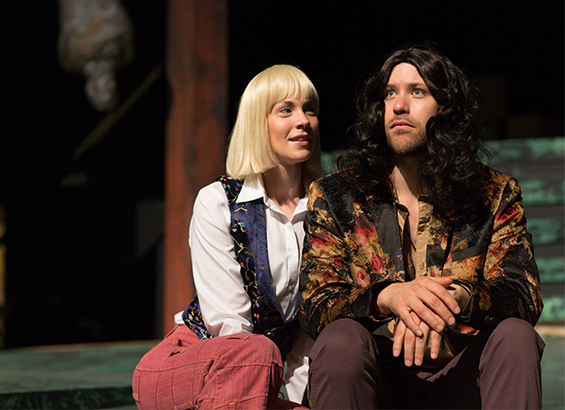 A Broadway star is among the cast of talented actors who will take center stage at the Miller Outdoor Theatre this year for the 43rd season of the Houston Shakespeare Festival (HSF).
Dylan Paul, a graduate of the Master of Fine Arts program at the University of Houston School of Theatre and Dance, is making his HSF debut in both productions of "Twelfth Night" and "Richard III". Paul recently completed a run of the Broadway revival of "Cabaret" and has appeared in various Shakespeare festivals across the country.
Jack Young, HSF artistic director, will direct Paul in "Twelfth Night".
"It's not often that the Shakespeare Festival has had a Broadway-acting and singing talent, so that's a big boost for us this year," Young said.
The event, produced by the UH School of Theatre and Dance, is free and open to the public. Performances run July 28 − Aug. 6 at Hermann Park's Miller Outdoor Theatre (6000 Hermann Park Dr.). All shows begin at 8:15 p.m. The performance schedule is as follows:
"Twelfth Night" – July 28, 30; Aug. 1, 3, 5
"Richard III" – July 29, Aug. 2, 4, 6
Lenny Banovez returns for a second season at HSF to direct "Richard III." Banovez is artistic director of TITAN Theatre Company, one of New York City's award-winning classical theatre companies. Last year, Banovez directed "Henry V" at HSF, which received nominations for Best Actor, Best Costume Design and Best Lighting in the Houston Press 2016 Houston Theater Awards.
"It's a thrill to have Lenny back this year for HSF. He's a very dynamic and imaginative director who really understands how to create 'widescreen' Shakespeare for the huge stage at Miller Outdoor Theatre," said Rob Shimko, HSF executive director. "His 'Henry V' last year was a rousing, action-packed triumph, and his 'Richard III' this year looks to be a thriller with a lot of intensity and depth."
Mayor Sylvester Turner is also honoring the festival and its rich history in Houston by making July 28 "Houston Shakespeare Festival Day".
In addition to producing plays at Miller Outdoor Theatre, the UH School of Theatre & Dance hosts the HSF Conservatory. This 17-day summer camp exposes high school students to rigorous professional theater training. Participants have the opportunity to perform in festival productions and learn from veteran actors and directors.
The Houston Shakespeare Festival was founded in 1975 by Sidney Berger. It remains the legacy of the UH professor emeritus and longtime director of UH's School of Theatre & Dance who passed away in 2013. Since its inception, the festival has entertained more than a million Houstonians and attracted national theater talents.
Click here for more details about HSF. Information about tickets and the venue can be found on the Miller Outdoor Theatre website.
---