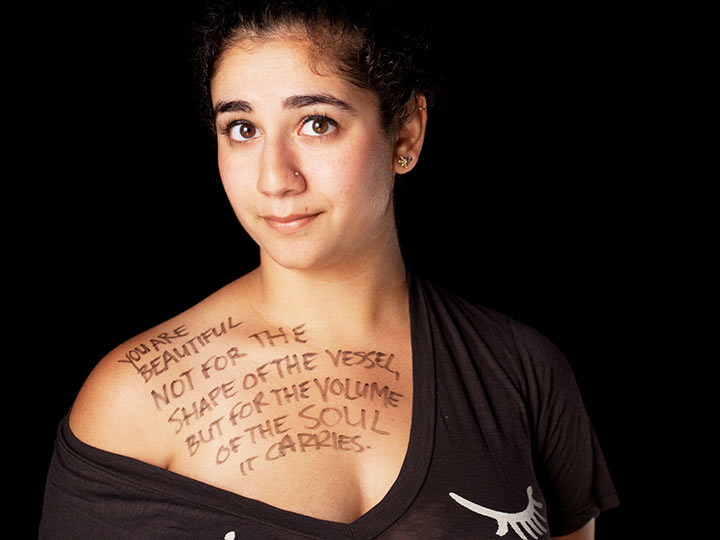 If you had one story to share with the world, what would you say? That's the question posed by "Dear World," an interactive, award-winning portrait project that unites people through pictures in their distinct message-on-skin style. This dynamic event is coming to the University of Houston on Thursday, Feb. 23. The event is free and open to the public.
Each member of the UH community has a unique experience, identity and story that will be captured by "Dear World," culminating with an interactive storytelling event. "Dear World" explores the powerful connections between students, faculty and staff through messages written on the body.
"This is a great opportunity for our campus community to come together by celebrating and welcoming conversations about diversity, vulnerability and acceptance," said Keith Kowalka, assistant vice president for student affairs. "'Dear World' is a transformative vehicle that will help unite the campus community through stories of hope, struggle and stories of a brighter day."
"Dear World" has been published in over 30 countries and has been featured on the Today Show, CNN and Buzzfeed, among many others.
What:

"Dear World" Portrait Project at the University of Houston

When:

Thursday, Feb. 23

9 a.m.-3 p.m.: Open Photo Shoot, Student Center South Lobby

7-8 p.m.: Storytelling and Photo Reveal Event, Student Center Houston Room

Where:

University of Houston Student Center South (4455 University Dr.), Entrance 1 off University Dr.
Find the event on Facebook and join the conversation online using #DearWorldUH.
The event is sponsored by the Division of Student Affairs and Enrollment Services, Black Student Union, Campus Ministries Association, Council of Ethnic Organizations and the Student Government Association.
---