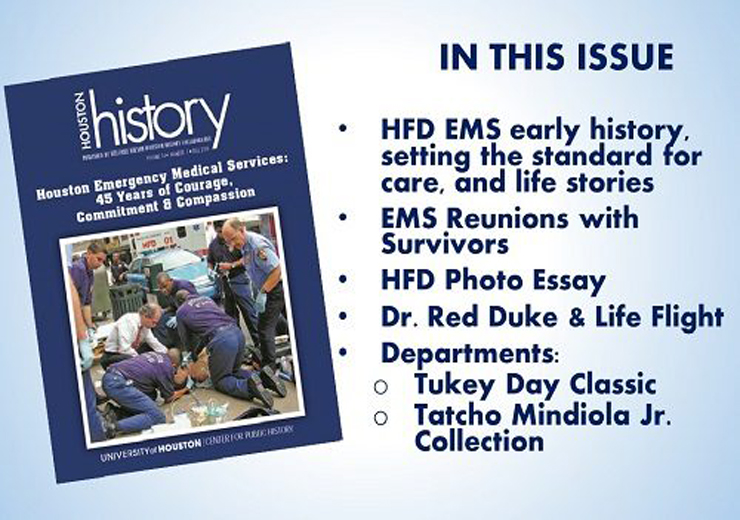 When tragedy strikes including fires, accidents and even natural disasters such as tornadoes and hurricanes, Houston Fire Department (HFD) Emergency Medical Services (EMS) is first on the scene to save lives and property.
 After decades of selfless service, the history of Houston EMS has been chronicled in the latest issue of Houston History Magazine. A team of UH Honors College students and history interns compiled "Houston Emergency Medical Services: 45 Years of Courage, Commitment & Compassion."
 A celebration event with the authors and HFD members will be held Tuesday, Feb. 28 from 5:30 - 7:30 p.m. at the United Way of Greater Houston (50 Waugh Drive).
 "It is important to document the humble beginnings of the Houston Fire Department EMS and how it progressed from a simple transport service to world-renowned emergency medical services system," said Debbie Harwell, managing editor, Houston History Magazine. "Houston is renowned as a worldwide leader in medicine, but few realize that HFD EMS is also a leader in pre-hospital emergency care, conducting research and setting standards of care used across the nation and the globe."   
 Published by the Welcome Wilson Houston History Collaborative, the magazine highlights the origins of EMS within the Houston Fire Department, Houston's role in setting standards of care, personal stories from EMS members, stories from survivors and physicians, such as famous trauma surgeon Dr. Red Duke, as well as a pictorial history of HFD.
 "The importance of this project cannot be overstated.  In today's fast-paced, high-tech society, we risk forgetting why we do some of the things we do, and the tremendous effort it took for us to get where we are today," said Dr. David Persse, City of Houston EMS Director & Public Health Authority.
 

       WHAT:

 

 

Celebration of "Houston Emergency Medical Services: 45 Years of Courage, Commitment & Compassion."

 

 

        WHO:

 

 

University of Houston Center for Public History and the Houston Fire Department EMS

 

        WHEN:

 

Tuesday, February 28 5:30-7:30 p.m.

         

         

       WHERE:

 

United Way of Greater Houston

50 Waugh Drive

Houston, TX  77007

 
---