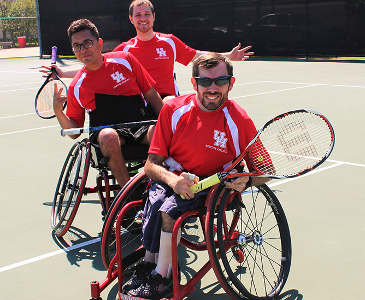 Adaptive Athletics at the University of Houston is known for its intense wheelchair rugby tournaments. Later this month, it will host a competition for people looking for something a little different.
The first Cougar Open Wheelchair Tennis Tournament is set for Oct. 28-30 at the Memorial Park Tennis Center. Sanctioned by the U.S. Tennis Association, the tournament is open to the public and will draw competitors of all skill levels.
That's a big reason Michael Cottingham, director of Adaptive Athletics at UH and assistant professor in the Department of Health and Human Performance, wanted to start a tennis program. Wheelchair tennis, he said, can be played by people with a variety of mobility issues, including muscular dystrophy, spina bifida and polio, along with those with spinal cord injuries and amputees. Not all of the participants regularly use a wheelchair, he said.
Tennis also is an individual sport, allowing people to compete at their own level.   
"This is a means to get more people involved," Cottingham said. "UH is such a diverse campus, and we want the disability community to be part of that."
Samantha Kwan, associate professor of sociology at UH and director of the tournament, said the program held four weekend "tennis blitz" events leading up to the tournament to allow people to get a feel for the sport. Many of the players in the tournament are first-time competitors, she said.
Sponsors for the tournament include the Houston Tennis Association, Patient Caregivers, Tennis Express and Tennis Warehouse.
WHAT:                                 University of Houston Cougar Open Wheelchair Tennis Tournament
WHEN:                                 9 a.m.-5 p.m. Friday and Saturday, Oct. 28-29; 9:30-noon Sunday, Oct. 30
WHERE:                               Memorial Park Tennis Center. Map
REGISTRATION:               Here. More information about the program here.
MEDIA CONTACT:           Jeannie Kever, 713-743-0778, m – 713-504-3769, jekever@uh.edu
---