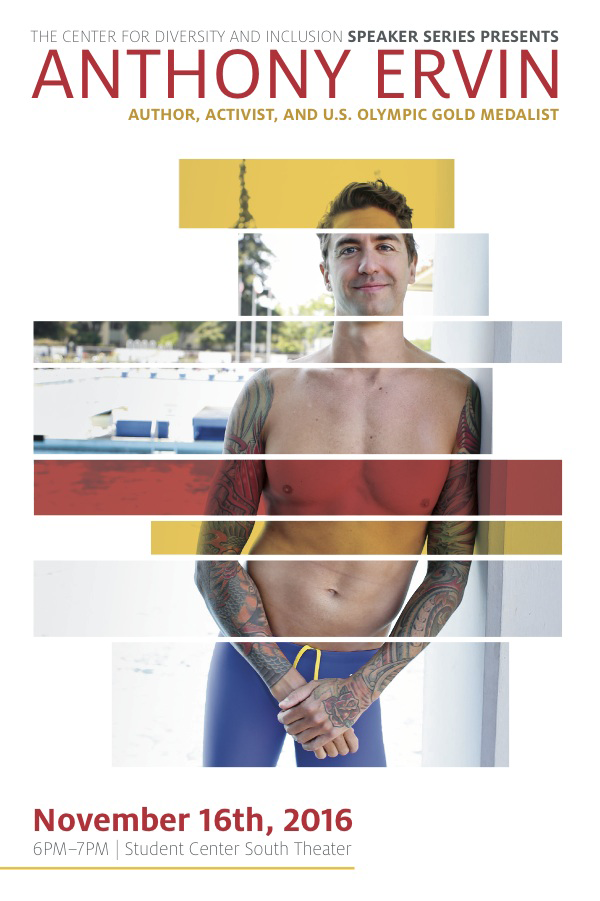 Four-time Olympic medalist Anthony Ervin has overcome countless obstacles including drug addiction, challenges with mental health, and connecting to his cultural heritage to figure out how to live a life he loves. Now as an accomplished Olympic swimmer, author and activist, he's inspiring others to do the same. 
 Ervin highlights the University of Houston Center of Diversity and Inclusion Speaker Series from 6-7 p.m., Wednesday, Nov. 16 at the Student Center South Theater.  The Center hosts nationally recognized speakers who are dedicated to providing insight and knowledge on various topics that align with social justice issues. 
 Remarkably, Ervin claimed the title of "fastest swimmer on the planet" both in 2000, as well as 16 years later when he won gold in the 50-meter freestyle at the Rio Olympics. At 35, he became the oldest individual Olympic swimming gold medalist ever.
 Ervin retired from swimming at 22 and traveled the world exploring other interests including higher education, music, tattoos and tsunami flood relief.  In 2004, he auctioned off his first gold medal on eBay and donated the money – more than $17,000 – to tsunami relief in Southeast Asia.
 He's using his platform as a chance to give back and inspire people, including students on the UH campus – one of the most diverse pubic research universities in the country.  Ervin has a unique heritage with a family tree that includes a broad demographic of Jewish, Native American and African-American decent.    
 His memoir, "Chasing Water: Elegy of an Olympian," was released earlier this year.      
 

WHAT:

 

 

The UH Center for Diversity and Inclusion Speaker Series

 

WHO:

 

 

Four-time Olympic medalist Anthony Ervin – The fastest swimmer in the world

 

 

WHEN:

 

6 – 7 p.m. Wednesday, Nov. 16

 

 

 

WHERE:

 

University of Houston

Student Center South Theater

4455 University Dr. Houston, TX 77204 (Entrance 1)

Map: http://www.uh.edu/maps/buildings/?short_name=UC

 
---