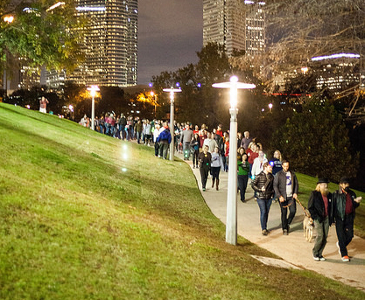 Looking for something different for the holidays? Try strolling through Buffalo Bayou to music written specifically to be heard outdoors in December, with members of the audience – and their smartphones – playing a key role in the performance.
 "Unsilent Night," a free interactive musical event sponsored by the University of Houston's Cynthia Woods Mitchell Center for the Arts and Buffalo Bayou Partnership, will take place Thursday, Dec. 8. A reception begins at 6 p.m. at The Water Works at Buffalo Bayou, 105 Sabine Street, with the promenade beginning at 7 p.m. The Mitchell Center is part of the UH College of the Arts.
Food and drinks will be available, along with a holiday craft table and a costume contest for the most "lit" outfit. Prizes will be awarded to revelers with the most lit up, celebratory outfit!
This is the 25th year for "Unsilent Night," which gives audience members an integral role in the performance, as they wind through the park while simultaneously playing one of four different tracks on their smartphones, boom boxes, tablets or mp3 players. Each participant downloads one of the four tracks prior to arrival.
The 43-minute multi-track electronic piece was created in 1992 by New York composer Phil Kline, with the different tracks combining to create the soundscape. 
RSVP for instructions on how to download the "Unsilent Night" app. The free app is available through the Apple App Store and for Android, through the Amazon App Store. For mp3 players, each of the four tracks are available here for free download under "Download a Sound File."
Download before arriving at the park, as the app must be downloaded while connected to Wi-Fi.
Parking is available in City Lot H (Memorial Drive before Houston Avenue). To learn more about the history of "Unsilent Night," click here. 
---