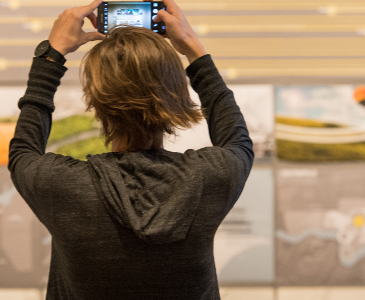 Houston is famously a city without zoning, a sprawling ode to industry and capitalism that has grown virtually unfettered.
A collaboration between Pritzker Prize-winning architect Thom Mayne and the Gerald D. Hines College of Architecture and Design at the University of Houston focused on the unique problems the city will face in the future, including the reinvention of the current energy infrastructure – highways, pipelines and chemical plants – changing real estate and density, and the ways in which the city's lack of zoning can generate new ideas.
"This studio is timely, given Houston's current rapid growth," said Matt Johnson, one of three Hines faculty members involved in the project. "The city will soon overtake Chicago as the third most populous city in the US. It was already largest in geographic area, and the most diverse. But where Chicago, Los Angeles and New York have been extensively theorized, Houston remains an urban enigma."
In addition to Johnson, faculty members Peter Zweig and Jason Logan, along with 21 students, worked on the project, which will move into the public eye Wednesday, Nov. 30, as the studio work goes on display at Mashburn Gallery, at the College of Architecture and Design with an opening reception from 5-7 p.m.
Mayne, whose firm, Morphosis, is based in Los Angeles, will be at UH that day, the culmination of a project that spanned three semesters and a summer project in Los Angeles. Students had the opportunity to collaborate with Mayne, who has led similar work in Los Angeles, Madrid and Chicago.  As the executive founding director of the NOW Institute, the urban research center at the University of California, Los Angeles, Mayne's urban research work is recognized worldwide. NOW Institute Director Eui-Sung Yi  also worked with the students, participating in their studio reviews in Los Angeles and traveling to Houston to work one-on-one as their projects developed. 
Logan said the work yielded a few surprises. "Houston is the only major city in the United States without zoning and form-based codes," he said. "Surprisingly, we found a lack of zoning can generate exceptional forms of urbanism and architecture."
In addition to the Mashburn Gallery exhibition, the work will be published in a book, to be available in Fall 2017, after an exhibition at the renowned architectural gallery Aedes in Berlin that will open in June 2017.
The work envisions a future that is rapidly approaching, Zweig said.
"By exploring how to rebuild and rethink the development of the central business district, students were challenged to demonstrate the viability of designs from an economic, cultural, social and ecological point of view," he said. "Their vision proposes a dynamic, optimistic future that is actually occurring faster than anyone has anticipated."
---