Robin Coste Lewis received rave reviews for her first book of poetry "Voyage of the Sable Venus." She also earned the National Book Award for this collection of works that explores the portrayal of the black female figure in Western art. Soon, Lewis will visit the University of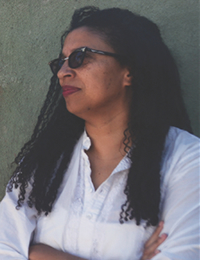 Houston to offer insight on her craft and discuss her popular book.
Lewis will speak at 5:30 p.m., Feb. 2 in UH's M.D. Anderson Library's Elizabeth Rockwell Pavilion (second floor). English librarian Jesse Sharpe and library specialist Kristine Greive will serve as moderators during this free event.
Her presentation is part of the UH Libraries' Unique Holdings series and co-presented by UH's literary journal Gulf Coast. This event is made possible by an Innovations Grant from the University's Cynthia Woods Mitchell Center for the Arts.
"Voyage of the Sable Venus" was published in 2015 by Knopf Doubleday Publishing Group and lauded by publications such as The New York Times and The New Yorker.
Lewis is a Provost's Fellow in Poetry and Visual Studies at the University of Southern California and a Cave Canem fellow of the Los Angeles Institute for the Humanities. She holds a Master of Fine Arts from New York University and a Master of Theological Studies from the Divinity School at Harvard University. Her works have appeared in a number of journals including The Massachusetts Review, Callaloo, The Harvard Gay & Lesbian Review, Transition: Women in Literary Arts, VIDA, Phantom Limb and Lambda Literary Review.
Visit the UH Libraries website for more details on other upcoming events, exhibitions and initiatives. For more details on Gulf Coast, visit the journal's website.
---