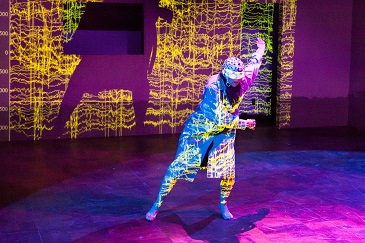 The latest in a series of artistic collaborations with a University of Houston engineer is set for 5:30 p.m. Friday, Feb. 12, when three dancer-choreographers will perform while their brain activity is recorded.
The series – which previously has included visual artists and writers – is part of a collaboration between Jose Luis Contreras-Vidal, Hugh Roy and Lillie Cranz Cullen Distinguished Professor of electrical and computer engineering, Blaffer Art Museum and members of the UH and Houston art communities. The goal is to collect brain activity from artists in a variety of disciplines, part of research funded by the National Science Foundation to better understand what happens in the brain as people both make and view art.
Three visual artists, Lily Cox-Richard, Jo Ann Fleischhauer and Dario Robleto, have been named Cullen College of Engineering Artists-in-Residence as part of the research.
The work will continue with a group of musicians on March 1.
Friday's performance will feature John Beasant III, assistant professor of dance; Teresa Chapman, associate professor of dance, and Becky Valls, also an associate professor of dance. The three, all wearing sensor-embedded skullcaps to record brain activity, will perform a variation of Exquisite Corpse, a game involving chance collaborations.
The performance will be followed by a discussion of the dancers' processes and the goals of the research, which studies connections between the brain and creativity, expression  and the perception of art.
Contreras-Vidal first worked with Valls last spring, recording her brainwaves during a public dance performance.   
WHAT:                         Three dancers will perform a variation on the collaborative game Exquisite Corpse,
                                      creating and performing as sensor-equipped skullcaps capture their brainwaves.
WHEN:                          5:30 p.m. Friday, Feb. 12
WHERE:                         Atrium of Engineering Building 1. Metered parking available in lot 16F, off Elgin
                                       Street just east of Cullen Boulevard.
MEDIA CONTACT:          Jeannie Kever, 713-743-0778, m-713-504-3769; jekever@uh.edu.
---