When the curtain rises on the Theatre Under The Stars (TUTS) production of "Oliver!" there will be seven University of Houston students also performing. They aren't actors. They are students of the UH American Sign Language Interpreting (ASLI) program ready to tell the story of Oliver Twist to deaf and hard of hearing audience members.
"Individuals who are deaf still want to have access to the visual stories that are told on the stage," said Sharon Hill, program coordinator and instructional professor. "TUTS reached out to us for assistance and we are excited to be part of the production and the effort to reach all audiences."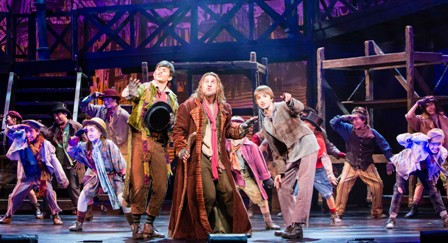 The students will interpret for the April 14 performance, which begins at 7:30 p.m. For ticket information, visit https://www.tuts.com/promo and use promo code OLVRASL. 
The students, all seniors, will work in teams and in 30-minute shifts. Similar to the actors on the stage, the UH interpreters will memorize the lines and attend rehearsals with the cast. Just like the actors, the interpreters will analyze the script, be familiar with character motivations and the meanings behind phrases, words and dialogues. Hill said in addition to knowing the correct signs, interpreters must also be animated to give life and meaning to the story.
"Signing is mentally taxing. The timing has to be right to keep pace with the play's dialogue and to be part of the rhythm of the performance," she said. "The students literally are putting on a mini American Sign Language production."
The TUTS performance will serve as the students' capstone course, an internship requirement for all ASLI program students. Hill is hopeful students will have the opportunity each spring with TUTS.
She estimates in Texas there are nearly 275,000 individuals who have a hearing loss and of that figure about three percent who are profoundly deaf. There are fewer than 1,500 certified sign language interpreters in the state. The UH ASLI program is the only one in Texas offering a four-year degree in the discipline and one of only 45 in the nation. The goal of the program is to prepare undergraduates with the skills and knowledge needed to gain entry-level certification as a professional interpreter.
 "Our students are the next generation of certified interpreters who have excelled in a very intensive program. The demand for their services will be great, but they will have had real world experiences to support their skills," she said.
For more information on the UH American Sign Language Interpreters Program, visit http://www.uh.edu/class/comd/asli/.
---