No city looks alike to all of its inhabitants, and that's certainly true for Houston. With its diverse communities and rich history, the Bayou City can be viewed in many different ways. Soon, Houstonians will have an opportunity to see their city through insightful maps detailing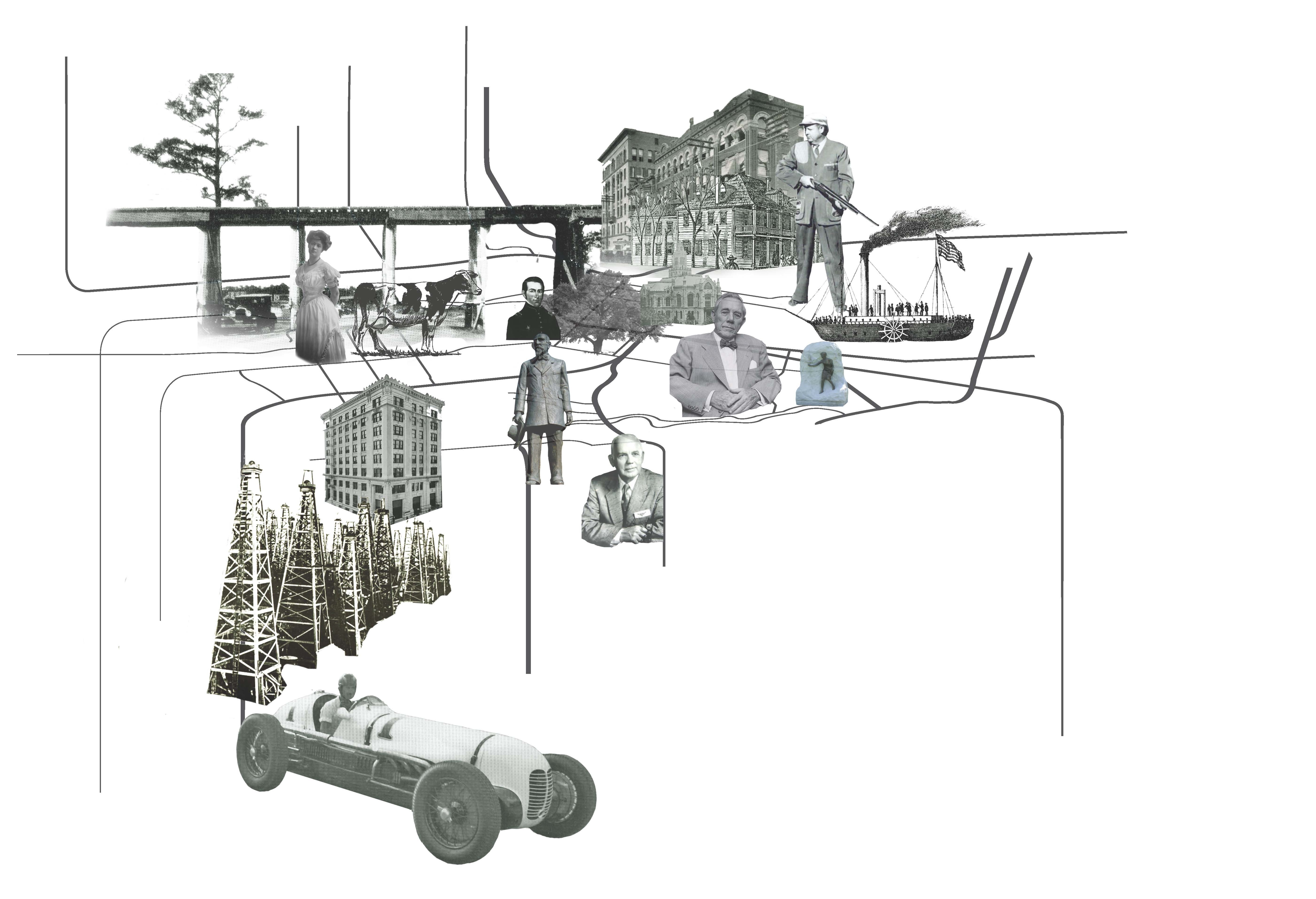 different aspects of America's fourth largest city.
The project "Unfold: Houston Revealed" utilized the talents of seniors in the University of Houston's Graphic Design Program (based in UH's School of Art) and students from UH's Creative Writing Program. Nine groups of students created maps that captured various aspects of Houston's essence and history. Map themes range from the origins of local street names to the history of Montrose to the city as a playground for pollutants.
On April 13, the public can view and purchase this project during a book release reception at Brazos Books (2421 Bissonnet St.). The event begins at 6:30 p.m. A bound set of all nine maps will be available for $25. Proceeds will benefit Houston's Habitat for Humanity.
"It was an interesting project," said graphic designer Sasha Ichoonsigy. "We were tasked with mapping the city in a creative way. It made us look at the city through various lenses, and it also taught us new processes with regard to integrating design with a narrative. We also really had to think of themes that would be relatable to Houstonians."
Ichoonsigy was part of the student group that created a map titled "Ghost Bikes," which follows roadside memorials to those killed while biking.  The map includes multiple images of bike wheels, gears, pedals and other hardware. Interspersed in between the patterns of bike imagery are names of departed bicyclists and how and where they perished. A red lens can be moved over the map to clearly read the stories of each bicyclist's fate.
Students researched the art and science of map making – or cartography – but admit to taking creative liberties in developing these illustrated guides to the city.
"Some of the topics we selected were not happy ones," Icsoonsigy said. "We had to think of ways to make these maps interesting and inviting."
Other "Unfold" maps include:
"Candy Man Land" – a timeline and map detailing the infamous Dean Corll murders
"What's in a Name?" – Images and text depicting origins of some of Houston's most iconic streets.
"TXCTY" – reimagining the city as a toxic amusement park and details the areas containing high levels of pollutants
"Graveyard Greats" – an overview of the historic cemeteries within the city and community leaders who are buried in them
"Montrose: Exploring the Counterculture"  - an exploration of Houston's iconic neighborhood and its progression from a planned community into a haven for art, music and nightlife.
"Tris Kai Deka Phobia: Fear of the Number 13" – a look at the buildings within the Texas Medical Center without a 13th floor
"Signals 2 Noise" – a rundown of some of the best named WiFi signals throughout the city including "Muggle Net," "Death Star," "GatosBorachos" and "Go Coogs"
"Hol(e)y City" – mapping the roads in need of repair surrounding Houston's Lakewood Church
"These maps offer a non-traditional look at Houston," Ichoonsigy said. "Houstonians might be overlooking some of the things illustrated in these maps. When they take a look at them, however, they will probably start to notice these elements of the city's landscape."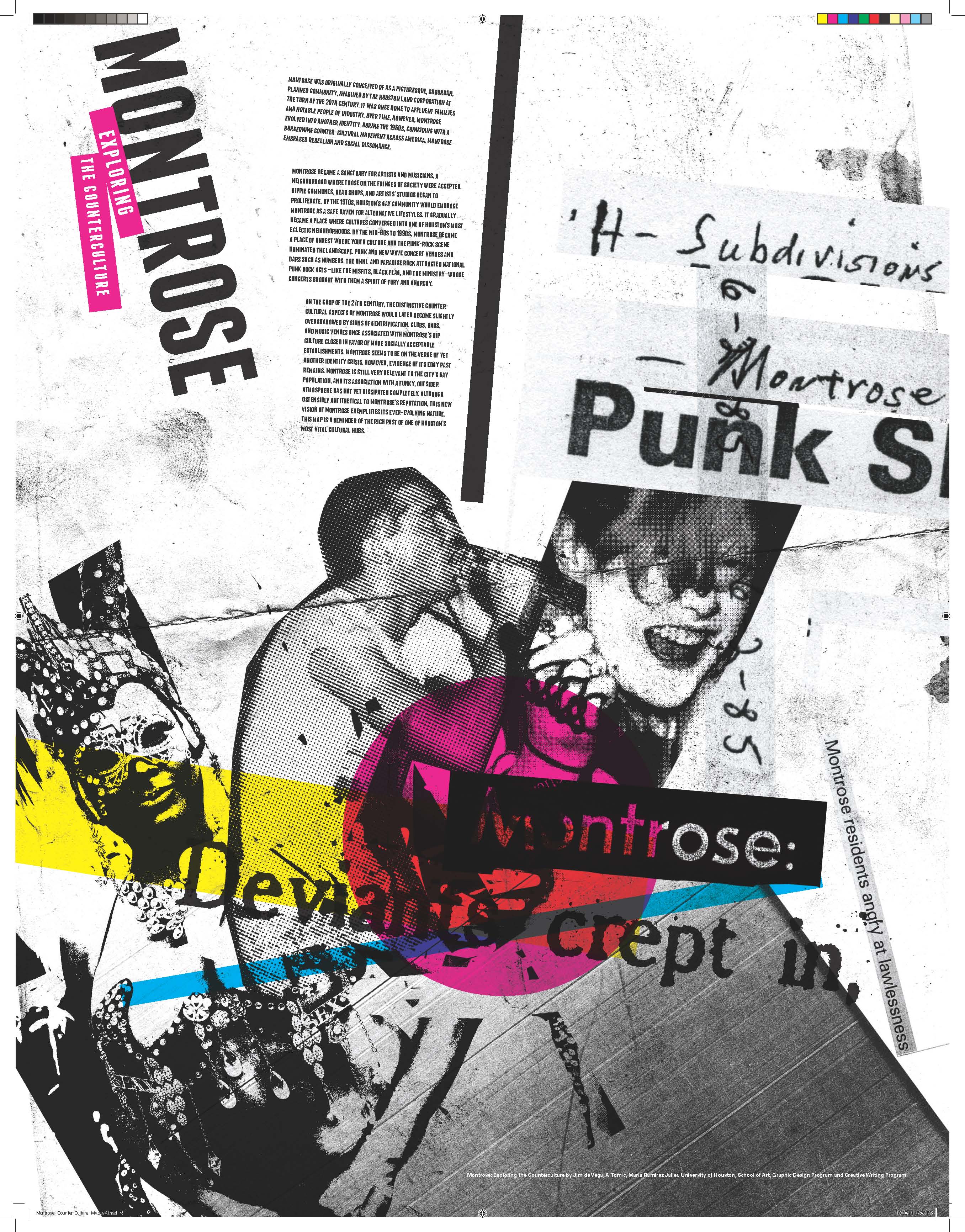 "Unfold: Houston Revealed" was created as part of the Interdisciplinary Arts (IART) class Creative Mapping. IART – based in UH's Cynthia Woods Mitchell Center for the Arts – curriculum mingles the talents of University students from various creative disciplines. For Creative Mapping, Graphic Design and Creative Writing students joined forces. Guiding them were Graphic Design professor Cheryl Beckett and Creative Writing Program professor Peter Turchi.
As part of UH's School of Art, the Graphic Design Program prepares students for careers in the ever-evolving design industry. Curriculum focuses on history, theory, methods and practice. Coursework also focuses on interdisciplinary collaborations and team building. Projects take students' talents out of the classroom and into the Houston community. Recent graphic communication projects have contributed to the city's urban landscape such as works developed for the Houston Zoo, Ryan Middle School, Japhet Creek and the underpass at the Gulf Freeway and Wayside Drive.
As part of UH's English department, the Creative Writing Program offers poets, fiction writers and non-fiction writers intensive training in both creative writing and literary studies. It offers two graduate degrees: the Master of Fine Arts and Doctor of Philosophy. Noted faculty members include non-fiction writer Nick Flynn, graphic novelist Mat Johnson, poet Tony Hoagland, fiction writer Chitra Divakaruni, short story writer Antonya Nelson and short story writer/novelist Robert Boswell among many others.
---