Students in a new research program at the University of Houston College of Education are classroom and school leaders developing and expanding their instructional coaching skills to improve teacher and student outcomes. They're part of the new TEACH2Lead (T2L) program that harnesses their expertise and enthusiasm for teaching and channels it to support new and continuing teachers.
"This isn't a program focused on teaching practices that are tried and true," said Robert McPherson, dean of the College of Education. "This is a program focused on counseling and teaching practices that work, scaffolding coaching to effectively support and integrate those new practices into the core of what is taught."
The T2L program combines current teacher-preparation practices with coaching and interpersonal skills from motivational interviewing, an activity often used in health intervention and psychological fields. The results are new coach competencies and a framework for coaching strategies. By the end of the program, teacher-coaches will be able to inspire teacher-change to drive higher levels of student achievement.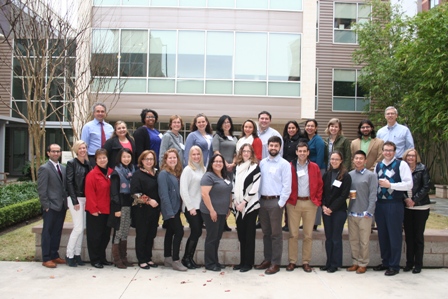 Funded by the Brown, Sid R. Richardson and Powell Foundations, the T2L Collaborative is comprised of the teachers, researchers and leaders from the college, Spring Branch Independent School District, KIPP Houston Public Schools, Houston Independent School District and Teach for America.
"In programs, you often get information and it stays in the binder on the shelf," said Angie Wezlick, assistant principal at KIPP Houston High School and a teaching coach. "The beauty of this program is someone is saying to you, 'I watched what you did. Here's where you've got it going on, and here's where you can continue to work, so that you do get better."
To date more than 75 coaches have participated in the intensive training that includes workshops, online learning experiences and one-on-one consultation with master coaches. They'll then work with novice teachers, those in their first to third year of teaching—or post-induction—a time when more than 50 percent will leave the profession, according to national studies.
"The program supports teachers from post-induction to teacher practices," said Anne McClellan, executive director for growth and innovation and T2L project director. "It seeks to pilot and demonstrate the efficacy of the motivational coaching conversation and interpersonal skill development that the collaborative feels are missing in the current system of teacher and instructional leader preparation."
The collaborative' s work also will fuel a center of innovation on mentor and talent development where new ideas can be explored and new research can be conducted and examined. 
 "Before coming to this program, I thought a teaching-coach, like me, set the objectives, because people get coached," said Curtis George of the Spring Branch Independent School District. "After the training, I learned that the coach falls to the background and facilitates change through the motivational coaching conversation and modeling high impact instructional practice. We really had a masterful group of researchers and leaders that modeled what we'll take back to our schools."
---