The University of Houston (UH) will host broadcast journalist, executive producer and philanthropist Soledad O'Brien's "Black in America 2015" tour at 7 p.m., Feb. 24 in Cullen Performance Hall.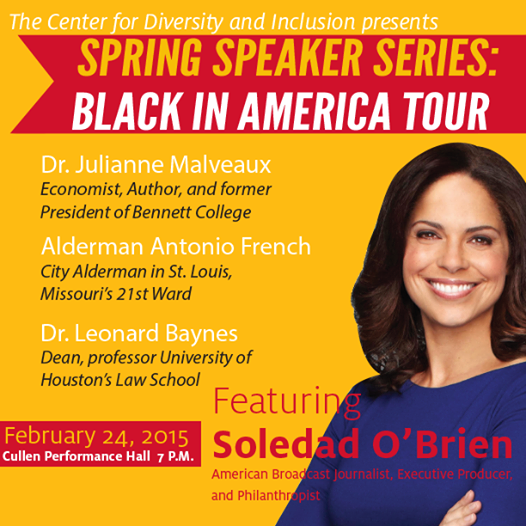 "'Black in America" is about Americans talking about the uncomfortable issue of race, about opening the floor to new perspectives, problems and the powerful experiences of regular people," said O'Brien. "This is a forum for the conversation America is ready to have."
O'Brien will moderate the panel discussion at UH with economist, author and political commentator Julianne Malveaux; Antonio French, 21st Ward alderman in St. Louis, Mo.; a surprise guest via Skype; and Leonard M. Baynes, dean of the UH Law Center who has a national reputation as a communications law scholar with specializations in business, media and diversity issues.
Sponsored by UH's Center for Diversity and Inclusion, the event is free and open to the public as seating permits, but tickets are required. Tickets are available for pickup (while supplies last) through Feb. 20 in the Center for Diversity and Inclusion, located in the Student Center South, Room B12.
The Center for Diversity and Inclusion selected O' Brien as a part of its inaugural Spring Speaker Series because she covers topics that are timely and that educate others on important social justice issues, said Niya Blair, director of the center.
"We want to be a part of the national conversation that is occurring. Soledad and her tour align with the Center for Diversity and Inclusion's mission," Blair said.
The award-winning journalist presents a detailed examination of the facts behind community policing, racial profiling, controversial crime reduction tactics and arrest quotas. Audiences – from Miami to Houston to Massachusetts – will see videos that show how a war between civil rights and crime reduction is unfurling on America's streets.
Baynes said he is honored to participate in the discussion.  "Ms. O'Brien is a treasure in helping to raise the many social and economic issues still facing the African American community in America," he said. "I am very grateful and honored to be part of the program."
A media interview/photo opportunity with O'Brien will be available at 6 p.m., prior to the event for UH and local media. To RSVP, please send an email by Feb. 20 to rbonnin@uh.edu.
The multi-city tour gives audiences an inside look at the latest installment of O'Brien's "Black in America" documentary series: "Black & Blue." The gripping hour aired on CNN just as protests erupted on American streets.
To view the official "Black in America: Black and Blue" trailer, visit: https://www.youtube.com/watch?v=nDMoCUC4Mro
Or visit http://www.iamtheconversation.com./
For more information about the campus event please contact the Center for Diversity and Inclusion at 713-743-6047 (http://www.uh.edu/cdi/).
About the University of Houston Center for Diversity and Inclusion:  The Center fosters an inclusive University community by providing services, programs and support that engage, empower and educate our highly diverse student population and campus partners. For more details, visit the Center's website.
---