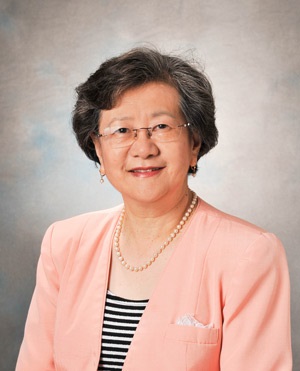 A University of Houston scientist has been named a Fellow of the National Academy of Inventors in recognition of her work in drug development.
Diana Shu-Lian Chow, professor of pharmaceutics and director of the Institute of Drug Education and Research at UH, is among the 168 new Fellows announced today. They will be inducted in April 2016 at the U.S. Patent and Trademark Office in Alexandria, Va.
Chow, known for her work to develop innovative pharmaceutical formulations and drug delivery systems, said she is honored by the recognition of her work, especially of the impact of Parenteral Busulfan.
"When we first learned about the clinical impact of Busulfan, we were really inspired," she said, referring to an intravenous formulation that has dramatically improved the safety of stem cell transplants for leukemia patients. "We're in the Texas Medical Center, so we can work with physicians and scientists to solve clinical problems."
Chow and her collaborators developed Busulfan as an intravenous injection, approved by the U.S. Food and Drug Administration in 1999. Now used in more than 65 percent of all transplants for acute leukemia patients in North America, it has cut the rate of transplant-related complications in the first three months to less than 5 percent, compared with up to 45 percent before. The one-year mortality rate has dropped to less than 10 percent, compared with more than 50 percent previously.
She and her co-inventors were named 2009 Inventor of the Year by the Houston Intellectual Property Lawyers Association for the work.
With the latest class, the number of National Academy of Inventors (NAI) Fellows has grown to 582. Fellows represent more than 190 research universities and governmental and nonprofit research institutes, hold more than 20,000 patents and include 310 members of other National Academies, including the National Academy of Science, the National Academy of Engineering and the National Academy of Medicine.
The NAI selects academic inventors "who have demonstrated a prolific spirit of innovation in creating or facilitating outstanding inventions that have made a tangible impact on quality of life, economic development and the welfare of society."
That spirit drives many academic researchers, said Ramanan Krishnamoorti, interim vice president/vice chancellor for research and technology transfer.
"Creating knowledge is the basic role of academic research, but we are also interested in work that translates to real improvements for health care, the environment, energy systems and other issues important to modern life," he said.  
Much of Chow's work has been with anti-cancer agents; she also holds patents for parenteral and oral formulations of benzimidazoles, a drug used to treat lung cancer, and for liposomal formulations of polymaxin B, used to treat pulmonary infections. In all, she has 10 issued or pending patents.
She is a member of the New York Academy of Sciences, the American Association for Cancer Research, the American College of Clinical Pharmacology and the American Association of Pharmaceutical Scientists, among other organizations.
Previously inducted fellows from UH include the late Rathindra Bose, vice president/vice chancellor for research and technology transfer; Benton Baugh, mechanical engineering; Paul Chu, physics professor and chief scientist of the Texas Center for Superconductivity at UH (TcSUH);  Allan Jacobson, director of TcSUH; Dan Luss, chemical and biomolecular engineering; Dmitri Litvinov, dean of the Graduate School and professor in the Cullen College of Engineering; Zhifeng Ren, physics professor and principal investigator at TcSUH; Venkat Selvamanickam, mechanical engineering and director of TcSUH's Applied Research Hub, and Richard Willson, professor of chemical and biomolecular engineering and interim associate vice president for technology transfer.
---