Hunter Yurachek, who was honored as the 2014 Under Armour Football Championship Athletic Director of the Year, has been named vice president for intercollegiate athletics and athletic director at the University of Houston.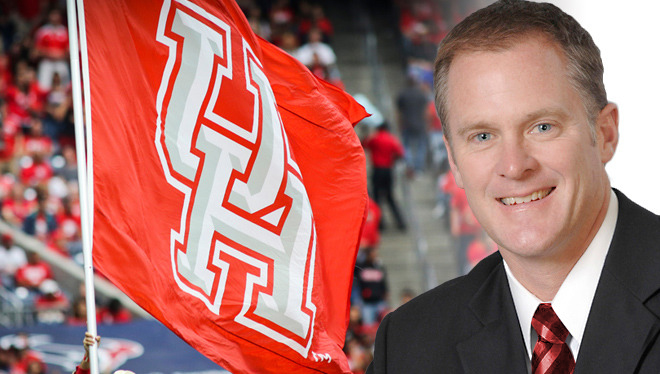 Celebrated broadcaster Jim Nantz, a UH alum, will formally introduce Yurachek at a news conference at 11 a.m., Thursday, at the TDECU Stadium Club.
Yurachek has experience at three Power 5 conference universities. He joined UH as the associate vice president and chief operating officer for intercollegiate athletics in February 2014. He was the only internal candidate for the job, which became vacant when Mack Rhoades accepted the same position at the University of Missouri.
"Hunter Yurachek is the best leader and administrator for where we are, and where we are going," UH President Renu Khator said in announcing the appointment. "He brings both a fresh perspective and a keen understanding of our strengths and opportunities.
"Hunter shares my belief that a Tier One athletics program should prepare our student-athletes to be champions for life by helping them experience success academically, athletically and in the community. I am thrilled our athletics program will be guided by his vision and leadership."
More than 50 applicants applied for the position, which attracted strong interest from top senior athletic directors and sitting athletic directors across the country, said Tilman Fertitta, chairman of the UH System Board of Regents.
"Mack Rhoades hired a great second number two leader when he brought Hunter to UH," Fertitta said. "He's the perfect person for this job."
UH hired the Atlanta-based search firm College Sports Solutions (CSI) to conduct an extensive national search to assist the University in identifying the best pool of candidates. Yurachek was selected after UH interviewed eight applicants.
"I want to thank President Khator, Chairman Fertitta and the entire Board of Regents for this tremendous opportunity," Yurachek said. "It is an honor to accept this position, and it will be a privilege to serve the student-athletes, coaches and entire the University of Houston community in this role.
"This is an exciting time to be at the University of Houston, and I embrace the challenge of leading our athletics program to the next level.  My wife, Jennifer, myself and our family are excited about the chance to deepen our roots and friendships in the Houston area and to call this great community home for many more years."
In his associate VP role at UH, Yurachek provided day-to-day support in the oversight of an NCAA Division I intercollegiate sports program comprising 17 varsity sports programs, 425 student-athletes, 175 employees and a $40 million operational budget.
Khator named Yurachek chair for a campus-wide steering committee established to oversee the grand opening events for the $120 million TDECU Stadium. He assisted Rhoades and Cougar Pride staff in the cultivation, solicitation and securing of a 10-year, $15,000,000-naming rights agreement for TDECU Stadium, with the per year value currently ranking in the top 10 nationally for collegiate venue naming rights agreements.
Yurachek assisted in the national search and hiring of football and men and women's basketball head coaches, while overseeing the development and implementation of a $500,000 remodeling project to the men and women's basketball locker rooms.
He served as liaison with an architectural design firm on the plans for the $25-million Houston Basketball Development facility. He also directed the development and implementation of a $500,000 facility enhancement to the Athletics/Alumni Center. This included the addition of Cougar Cafe, a student-athlete nutrition center – a plan developed and implemented in concert with senior woman administrator DeJuena Chizer and director of nutrition Glenda Blaskey.
Yurachek came to Houston after serving four years as director of athletics at Coastal Carolina University, where he oversaw a department featuring 18 men's and women's NCAA Division I sport programs. A testament of his vision, Yurachek was named the 2014 Under Armour FCS Athletic Director of the Year in May of 2014.
Under Yurachek's leadership, the Chanticleers won a total of 29 Big South Championships (both regular season and tournament championships), made 30 NCAA appearances and finished a program-best 79th in the 2012-13 Learfield Director's Cup.
During Yurachek's time of leadership, Coastal hosted an NCAA Baseball Regional; a NCAA Baseball Super Regional; NCAA Division I Football championship contests in 2010 and '13; and NCAA Men's Soccer Championship matches in 2011, '12 and '13, as well as winning a competitive bid to host the VisitMyrtleBeach.com Men's and Women's Big South Basketball Championships in 2013, 2014 and 2015, sponsored by the Myrtle Beach Area Chamber of Commerce.
In addition, since Yurachek's hiring in January 2010, Coastal Carolina student-athletes earned:
• 363 All-Big South honors
• 31 All-Big South Player of the Year honors along with 13 Big South Freshman of the Year honors
• 28 All-America honors
• 11 Big South Scholar-Athlete of the Year honors in their respective sports
• 5 Academic All-America honors
• 4 national postgraduate scholarships
• 3 Big South Conference Christenberry Awards for Academic Excellence
The Coastal Carolina department operated within a balanced budget during Yurachek's tenure, thanks to his zero-budget initiative and the unprecedented revenues generated since his arrival with his restructuring of the external relations department. In his first year, the department revenue was at $560,000, including $316,000 in ticket sales and sponsorships at $250,000. After the 2012-13 year, revenue came in at $1.4 million, thanks to $549,000 in ticket sales and $600,000 in sponsorships.
Prior to his appointment at Coastal Carolina University, Yurachek was executive senior associate athletics director at the University of Akron. He led and managed the Zips' external relations unit, which included marketing and promotions, media relations, ticket operations, development (Z-Fund), video operations and merchandising. In addition, he was the sport administrator for men's basketball, men's golf and women's golf and worked closely with the football program.
Yurachek has also held various athletics administration leadership positions at the University of Virginia, Western Carolina University, Vanderbilt University and Wake Forest University.
He earned his bachelor's degree in business management at Guilford College in 1990, where he was a four-year letter winner in basketball. He earned his master's degree in sports administration from the University of Richmond in 1994.
A native of Richmond, Va., Yurachek and his wife have three sons: Ryan, Jake and Brooks.
---