Allen's Landing isn't technically part of the Houston's famed Theater District. Soon, however, the historic area will serve as a unique stage for an evening of dance and art delivered by University of Houston students.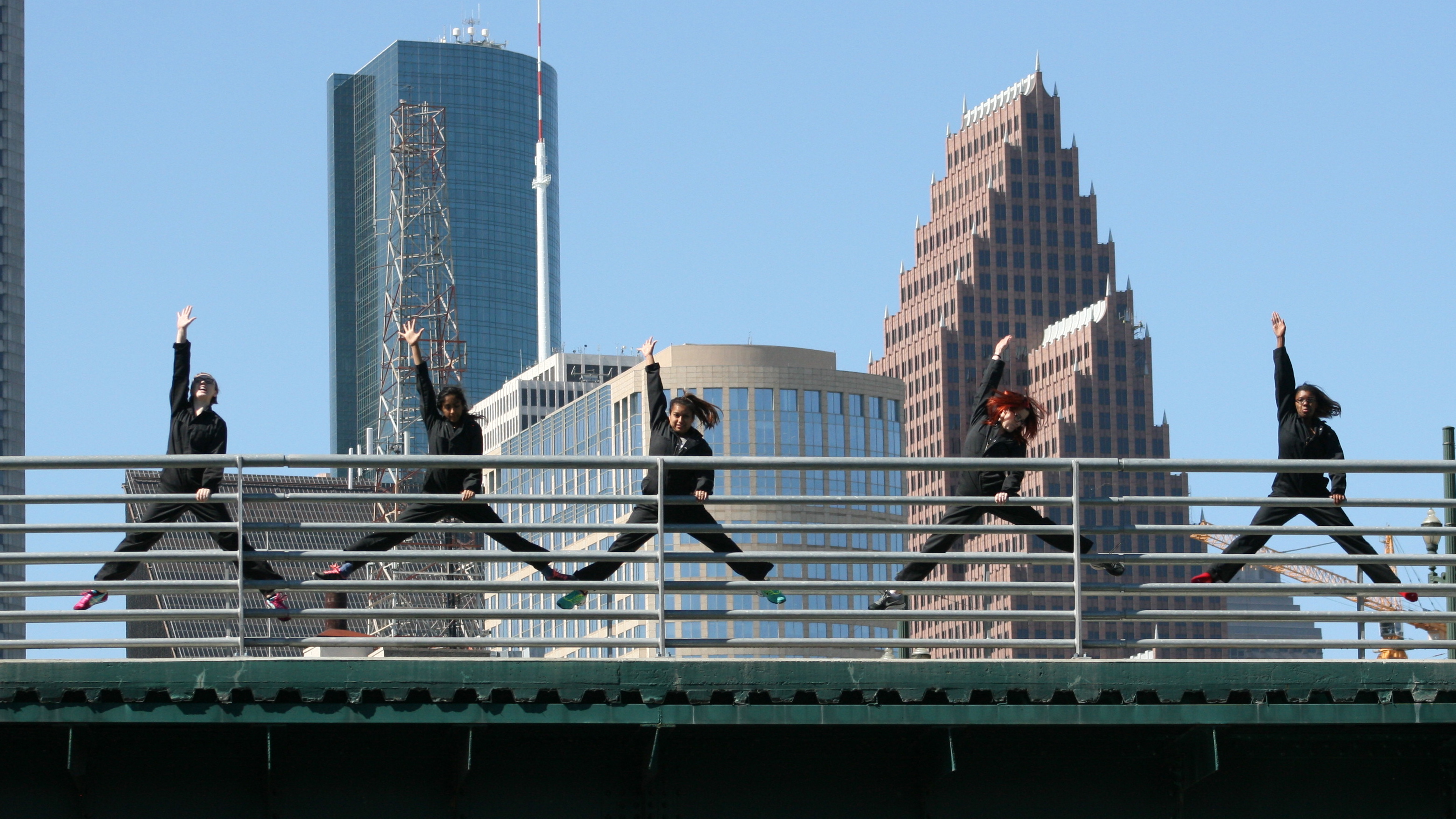 UH dance professor and acclaimed dancer-choreographer Karen Stokes has been guiding students in her Site-Specific Performance class as they've developed performances and installations for this overlooked – yet significant – area of the city. Audiences can experience these works on April 26 during "Backstage at Allen's Landing." The interactive event will take Houstonians on a memorable tour of the space located in northern downtown at the connecting point for White Oak Bayou and Buffalo Bayou – Wood Street between North Main Street and San Jacinto Street.
Known as the birthplace of Houston, Allen's Landing  -- named for brothers August Chapman and John Kirby Allen -- was the site of the city's original port and is symbolic of its role as an economic hub.
Audience members will experience "Backstage" in docent-led groups and have the opportunity to explore an area rich with color and history.
"This is literally a backstage look of the site," Stokes said. "Few people get to see this area, so we came in here like archaeologists. We looked at the site, its surrounding buildings, bridges, bike trails, landscape and, of course, the bayou. We then went about building this experiential event."
Works will reflect the current status of Allen's Landing and its proximity to diverse aspects of the city. On one side of the bayou is the city jail. Across the waters is UH-Downtown complemented by the Metro light rail line. Sometimes, the site becomes littered with trash. Also, it's a place where the homeless often rest.
One installation titled "Spike" will incorporate piles of sand in various areas of the site – reflective of the ground spikes used in some communities to dissuade homeless people. Another will feature trash bag balloons floating in the air. Dance performances will tie together the various elements of Allen's Landing. Performances are titled "Without," "Transit," "Estuary," "Forgotten Stories," "Anonymous Monuments" and "Labor."
"We hope to capture layers of time," Stokes said. "I want to get people down here to experience Houston's history and experience this site that is so important to the city and what it's become."
Students in Stokes course – part of UH's Interdisciplinary Arts (IART) minor – come from a variety of creative backgrounds (dance, visual art, communication).
Among the featured performers is senior dance student Kate Rash. This particular show will be particularly poignant as it is her final UH performance. Teaming with Jim Young Oh, she is focusing on the site as a dumping ground and haven for those without homes or families. Rash will take on the role of a homeless person flanked by the floating trash bags created by Young Oh.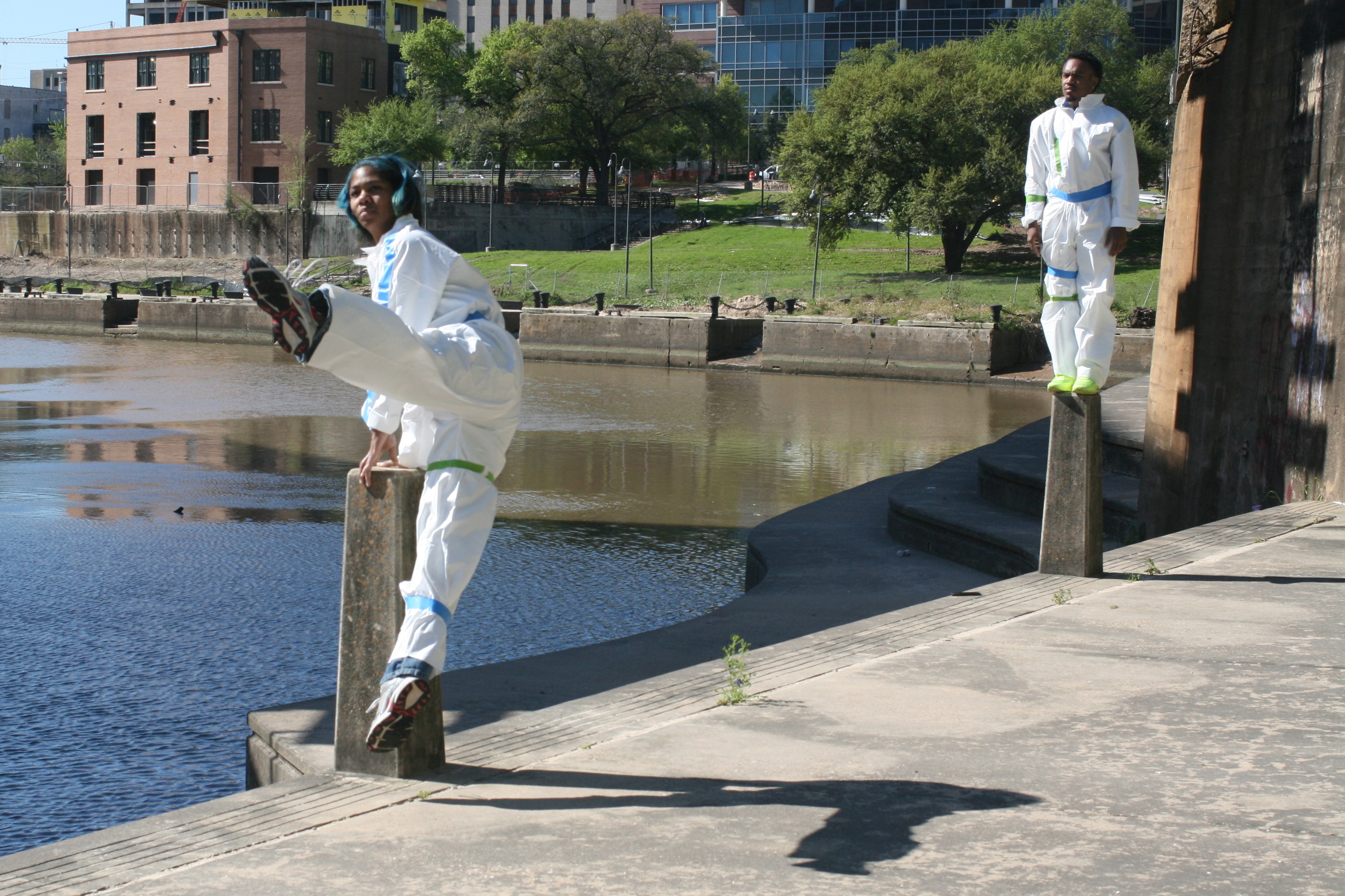 "This project is a great way for dancers and artists to connect with their city," she said. "We're always trying to get audiences to come to our shows. This really allows the audiences to be part of the performance. I think that's what people really want. Dance can be seen as 'high art' or sometimes, people don't understand it. If someone can be part of it, then it's not just about creating art. It's about creating a community."
Communication junior Vaughnzel Lloyd also is contributing his talents to the project by reading stories regarding Allen's Landing through a megaphone. The class, he said, opened his eyes to both a piece of Houston and the work related to staging a performance.
"It's a great experience," he said. "I'm collaborating with students from different backgrounds. I wouldn't have an opportunity like this in other classes, and I'm learning about our city."
While the performance is free and open to the public, audience members must make reservations through Stokes at Karen@karenstokesdance.org. Performances will kick off in the late afternoon and audience members can reserve a specific time slot.
"Backstage at Allen's Landing" is part of Karen Stokes' series "DEEP: Seaspace 2014 – 2017." The project features performances at iconic areas throughout the city. Stokes will revisit Allen's Landing on Oct. 3 and 4 with "Sunset at Allen's Landing." To learn more about Stokes and other projects, visit her website.
Site-Specific Performance is offered through IART (offered through the Cynthia Woods Mitchell Center for the Arts) and UH's Dance Program.
---