The University of Houston Conrad N. Hilton College of Hotel and Restaurant Management will host some of Houston's top chefs and restaurants for the 30th Annual Caesar Salad Competition.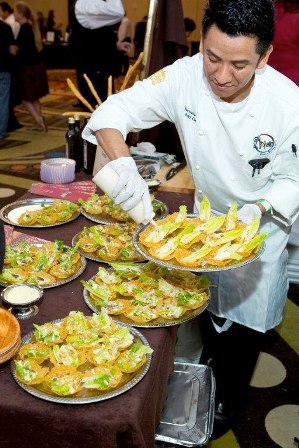 The event is planned from 5 – 8 p.m., Friday, Oct. 10 at the Hilton University of Houston. Tickets are $45 in advance and $50 at the door. The first 10 guests who wear a toga receive free admission. Guests will enjoy food, wine, beer and a silent auction.
Contestants include chefs from: 1600 Bar & Grill, the Westin Houston Downtown, Quattro, Peli Peli, Kiran's, Eric's Restaurant, Bistro Menil, the Fish and Knife, the San Luis Hotel, Hyatt Market Street – The Woodlands, the Café on the Lake Omni West, the Lancaster Hotel, Radio Milano – Hotel Sorella City Centre, The Bird & The Bear Bistro, the Magnolia Hotel and the Marriott Westchase.
Winners in the Classic, Creative and Best Presentation categories will be selected by a panel of judges. Lettuce-loving guests will cast their votes for the Consumer's Choice award.
More than just a salad soiree, the event proceeds go toward the Food & Beverage Managers Association of Houston's scholarship fund, which benefits hospitality students at UH Hilton College.
The event is sponsored by the Food & Beverage Managers Association of Houston, My Table Magazine and the UH Hilton College. 
Visit http://www.caesarsaladcompetitionhouston.com/ for more information. 
WHO: University of Houston Conrad N. Hilton College of Hotel and Restaurant Management
WHAT: 30th Annual Caesar Salad Competition
WHEN: 5 – 8 p.m., Friday Oct. 10
WHERE:  Hilton University of Houston, 4800 Calhoun, Entrance 1
For directions and parking information, visit http://www3.hilton.com/en/hotels/texas/hilton-university-of-houston-HOUUHHF/maps-directions/index.html
---