Cougar Pride looms large on the University of Houston campus and in the community. This weekend, Houstonians will celebrate a very special Coog's birthday at the Houston Zoo.
UH's live mascot Shasta VI turns 3 years old and the community is invited to the party. On Sept. 28, the Houston Zoo in partnership with the UH Alumni Association (UHAA)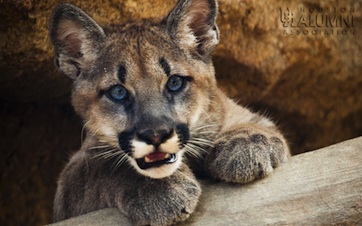 hosts a celebration honoring Shasta from 9 a.m. to 3 p.m. Visitors in UH gear who arrive by noon will receive free admission to the zoo. Throughout the day, Shasta fans can participate in Cougar Craftmaking.
At 10:30 a.m., Shasta will receive his birthday cake and fans can join in a group "Happy Birthday" sing-a-long. Visitors also have an opportunity to view cougar training sessions at 11:30 a.m. and 1:30 p.m.
Shasta VI came to Houston in 2011. Originally from Washington State, he and his two brothers were orphaned after a hunter killed their mother. At the Houston Zoo, he lives with his buddy Haley, who also serves as a UH ambassador.
Fans of Shasta VI can capture his image on their phones, laptops or tablets with downloadable wallpaper available from the UHAA website. Houstonians also can "adopt" Shasta and make a $75 contribution to the care and feeding of UH's favorite Coog and contributing to UHAA's scholarship programs. Adopters will receive a plush cougar, adoption certificate, cougar fact sheet, photo of Shasta and a pair of Houston Zoo tickets. For more details, visit this page on the Houston Zoo's website.
Visit the Houston Zoo's calendar page for more details on the event. To learn more about the Houston Zoo, visit www.houstonzoo.org.
Since 1940, the University of Houston Alumni Association has served and supported UH's more than 200,000 alumni, its friends and the community. From student scholarships and legislative advocacy, to alumni networks and communications, UHAA works to enhance the value of Coogs' degrees and the alumni experience. For more information on UHAA, visit its website.
Members of the media attending this event should contact the Houston Zoo's media relations' office at 713-553-6531 for access to the facility.
About the University of Houston
The University of Houston is a Carnegie-designated Tier One public research university recognized by The Princeton Review as one of the nation's best colleges for undergraduate education. UH serves the globally competitive Houston and Gulf Coast Region by providing world-class faculty, experiential learning and strategic industry partnerships. Located in the nation's fourth-largest city, UH serves more than 40,900 students in the most ethnically and culturally diverse region in the country.
---