In research aimed at determining how babies and toddlers begin to understand the actions of others, a University of Houston research team is studying brain activity triggered by playtime interactions.
The study involves children from six months to 24 months old
The interactions between the children and researchers are literally child's play. But information about brain activity recorded as the child reaches for a toy or imitates the researcher – pushing a button on a toy, for example, or playing with a toy car – may provide clues to how children learn the meaning of actions performed by others, and how they learn to imitate those actions.
Jose Luis Contreras-Vidal, professor of electrical and computer engineering at UH and director of the University's Non-Invasive Brain Machine Interface Systems Laboratory, said the work is designed to teach researchers more about how typically developing children learn and react to those around them.  That knowledge could lead to develop better diagnosis and treatments for children with autism and other developmental disorders, he said.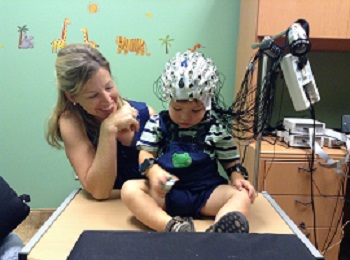 "The more we know about typically developing children, the better we will be able to develop interventions or early diagnoses, when the brain is still able to be retrained," he said.
The work is part of a multi-institution project funded by a $6 million grant from the National Institutes of Health, with related projects underway at the University of Chicago, the University of Maryland and the University of Parma, Italy.        
In this study, approved by the University's Committee for the Protection of Human Subjects, children wear a cap – similar to a swimming cap – covered with sensors that read brain activity. Additional sensors are attached to their forearms, torso and head to record body movement. The children, accompanied by a parent or guardian, are tested in a small room, decorated to resemble a childhood nursery, located in  Contreras-Vidal's main lab on the UH campus.
Contreras-Vidal or a member of his research team tries to engage them, choosing from a basket of toys and encouraging the child to reach for the toy and imitate the researcher's movements.
"It can be a challenge, because you cannot really talk with them," he said. "My experience is, if they are happy, they can do many things for you. Maybe they cannot do what you are doing, but they try to do so."
The test takes between 10 and 20 minutes and is ended if the baby doesn't want to cooperate, Contreras-Vidal said. The total time commitment is about an hour. People interested in having their children participate can call 713-743-0796 or 832-858-7017 or email Teresa Tse at twtse@uh.edu or Jesus Cruz at jgcruz@central.uh.edu.
---