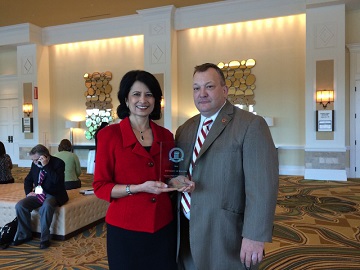 The University of Houston has been named winner of the "Connections" award by the Association of Public and Land-grant Universities (APLU) as part of the second annual Innovation & Economic Prosperity University Awards.
Judges said they selected UH for "focusing on creating an innovation ecosystem by nurturing interdependence between internal know-how and resources, and input from university stakeholders and industry experts (and) for building an Energy Research Park that is enriching the social and cultural fabric of the community, and for making connections between and among their efforts in innovation and entrepreneurship, talent development, and the cultivation of place."
The awards were announced Nov. 4, on the final day of the APLU annual meeting in Orlando, Fla. Other winners were the University of Massachusetts-Boston, for the Talent award; the Georgia Institute of Technology, for the Innovation award; and North Carolina State University, for the Place award.
"The University of Houston takes its responsibility to help drive the region's economic development very seriously, so we are gratified to have our efforts acknowledged with this national recognition," University President Renu Khator said. "While the Energy Research Park plays an increasingly important role in bringing technologies from our faculty into the marketplace, our focus on entrepreneurship and innovation isn't limited to that facility. It permeates all of our programs and everything we do at UH, as this award confirms."
Rathindra Bose, vice president of research and technology transfer at UH, said the University is grateful for the recognition.
"The magnitude of our efforts are told by the faculty and student inventors we have helped, the number of businesses we have launched to date, and the products that are and will be impacting lives in our community," he said. "The success we've achieved in this effort is thankfully acknowledged through the awards we've received, such as this Connections award from APLU."
The Innovation & Economic Prosperity awards recognize efforts of member universities working with public and private sector partners in their states and regions to support economic development through a variety of activities — innovation and entrepreneurship, technology transfer, talent and workforce development, and community development. 
 "These four institutions have each demonstrated a clear commitment to economic engagement and have followed through by delivering results," APLU President Peter McPherson said.  "APLU applauds them and looks forward to sharing their good work as a resource for all public research universities to expand their economic engagement activities and help grow their regional economies."  
There were eight finalists for the 2014 awards. In addition to the winners, Pennsylvania State University, Purdue University, University of Illinois and Virginia Tech were in the final competition for the awards. 
For more background on the University's economic development efforts, see: http://www.uh.edu/news-events/stories/2014/October/APLU%20Awards.php.
---