The University of Houston has been named a finalist for the Innovation & Economic Prosperity University Awards, sponsored by the Association of Public and Land-grant Universities (APLU).
The awards recognize APLU member institutions that have demonstrated a commitment to fostering innovation and economic engagement in the regions in which the universities operate.
The winners will be announced Nov. 4. The other finalists – drawn from a pool of institutions that the association designated last year as Innovation and Economic Prosperity Universities – are Georgia Institute of Technology, North Carolina State University, Pennsylvania State University, Purdue University, University of Illinois, University of Massachusetts-Boston and Virginia Tech.
APLU President Peter McPherson said the eight finalists all have demonstrated a commitment to economic engagement and have followed through by delivering results.
"Public research universities have a core responsibility to take their wide array of expertise and put it to work in their region by helping to grow businesses, strengthen the economy and advance society," he said.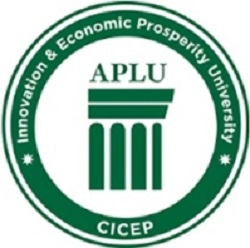 The awards will be judged based on three separate elements of economic engagement – talent, innovation and place. A fourth award will be given to the university that has succeeded in best combining all three elements.
Renu Khator, president of UH, called the recognition an indicator that the community is taking note of the University's role as a driver of innovation and entrepreneurship.
"As more and more inventions from our faculty make their way into the marketplace, UH is showing just how integral our contributions are to the area's economic prosperity," she said.
UH has been pursuing a strategic plan to translate research from the laboratory to the marketplace for societal benefits, including economic development. The University has promoted entrepreneurial activities for both students and faculty, helping commercialize faculty technologies through UH-based startups. The Advanced Superconductor Manufacturing Institute, an industry-led nonprofit organization focused on industrial-scale manufacturing of superconducting technologies, recent construction of an incubator building to house startup companies, and a memorandum of understanding announced earlier this year with the Texas Collegiate Regional Center venture capital group to invest in faculty technologies are also part of the University's strategy to attract industry partners from around the nation.
Robert Robbins, president and CEO of the Texas Medical Center (TMC), said the University's selection as a finalist reflects "the transforming innovation ecosystem at UH. TMC is looking forward to working more closely with UH to accelerate commercialization of life science technology for further enhancing economic impact in the Houston area."
UH has also worked with the Houston Technology Center, a business incubator for emerging technology companies, and President and CEO Walter Ulrich cited their ongoing work "to create an ecosystem that supports economic development, entrepreneurship and technology commercialization.
"It is indeed a pleasure to see that APLU has recognized UH as a finalist for the contributions to innovation and economic prosperity," Ulrich said.
---