World War I – or the "Great War" – raged for four years in the early part of the 20th century. By the time the final shots were fired, approximately 15 million soldiers and civilians had perished, and the world's political landscape was altered.
Houstonians now have an opportunity to see the "Great War" through the eyes of German soldier Otto Schubert who experienced both brutal combat and the camaraderie of his troops. The exhibition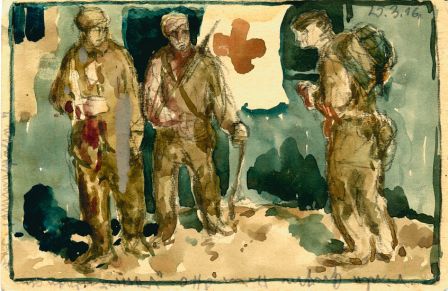 "Postcards from the Trenches" will spotlight various wartime items including postcards with paintings and illustrations by Schubert
University of Houston Honors College professor Irene Guenther is co-curating "Postcards from the Trenches" with George Mason University professor Marion Deshmukh. It is on  view through Feb. 14, 2015 at The Printing Museum (1324 W. Clay St.).
The launch of "Postcards from the Trenches" coincides with the 100th anniversary of WWI's beginnings. In addition to the painted postcards by Schubert, it also showcases more than 100 photographs and postcards, including those featuring images of soldiers in uniform and others with messages of propaganda.
For Guenther, a 20th century historian, "Postcards from the Trenches" complements her academic interests and  represents the legacy of her father, Peter Guenther. The senior Guenther taught art history at UH and was among the founding faculty for the University's School of Art. Following her parents' passing in 2005, Irene Guenther was going through some of his collected items and discovered these cards.
"I found an old brown envelope with these postcards," she said. "When I looked at them, I thought to myself, 'Holy smokes, this is remarkable!' These are so exquisite and so moving that it sent me on a search to figure out who this soldier was and to whom he was writing."
The artist, Schubert, was drafted by the German army 1914 when he was 23 years old. At the time, soldiers were given 4" x 6" field postcards to send to their loved ones. According to Guenther, approximately 7 billion postcards were exchanged during WWI.
Schubert used these cards as a canvas and sent these paintings to his fiancé He was shot during the Battle of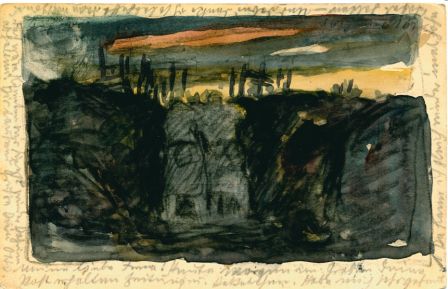 Verdun but survived and later returned to his home in Dresden, Germany. He married, started a family and set up an art studio. Sadly, he lost his wife and studio during the bombing of Dresden. When Schubert crawled out of the rubble, he found himself in the Soviet Zone.  He remained in East Germany for the rest of his life, only exhibiting twice in West Germany, which is likely why few art historians are familiar with his work.
"I think he was very careful in what he painted, so he wouldn't worry his fiancé," Guenther said. On the edges of the postcards, he would include messages like 'Please send a letter,' 'I haven't heard from you,' 'I wish I was home.'
"These postcards have little room for actual writing. When you look at what is actually written there, it brings this enormous war to an intimate and very personal perspective."
While researching Schubert, Guenther discovered a clue as to why her father had these postcards. She discovered an ad for a volume of poetry written by her grandfather Alfred Günther with illustrations by Schubert.
"It was a complete revelation to me," she said. "Why did my father have these? And why was I so connected to them? All of a sudden, it began to make sense. My grandfather was involved in Dresden's arts scene, so that was probably how these cards found their way into my possession."
Complementing the exhibition will be several talks hosted at The Printing Museum and at UH. A schedule of supporting events is as follows:
"Give Until It Hurts: Jesse Jones, Houston and World War I" by Steven Fenberg – 4 p.m., Oct. 29 at UH's Honors College Commons and 7 p.m., Oct. 30 at The Printing Museum.
"The First World War: A Transnational Approach" by Jay Winter – 7 p.m., Nov. 6 at The Printing Museum
"Shell Shock and the Emotional History of the First World War" by Jay Winter – 1 p.m., Nov. 7 at UH's Cemo Hall
"The Yanks are Coming (Eventually): How Popular Songs Expressed America's Changing Attitudes, 1914 – 1919" by Michael Lasser – 4 p.m., Nov. 19 at UH's Honors College Commons
"Smile the While You Kiss Me Sad Adieu: The Love Songs of WWI" by Michael Lasser – 7 p.m., Nov. 20 at The Printing Museum
In addition to the exhibition, Guenther and fellow professor Robert Zaretsky are teaching an Honors College course on WWI.
To learn more about "Postcards from the Trenches," visit the exhibition's website.
---