Hoffmann is a man in love … with several women. His heart belongs to a singer, a mechanical woman, a young woman protected by her father and a seductress. One inspiring female, however, hopes to rescue him from his reckless passions.
Whom will Hoffmann choose? Audiences can find out when the Jacques Offenbach's opera fantasy "The Tales of Hoffmann" comes to life at the University of Houston. The creative minds at UH's Moores Opera Center will offer a steampunk spin on the magical classic Oct. 24 – 27.
All performances are in UH's Moores Opera House (Entrance 16 off Cullen Boulevard).  Tickets are  $20 and $12 for students and seniors. They can be purchased at the Moores online box office or by calling 713-743-3313.
Show times and dates are as follows:
7:30 p.m., Oct. 24, 25, 27
2 p.m., Oct. 26
"The Tales of Hoffmann" – performed in French with English surtitles – follows the titular character through three tales of ill-fated romance. In the first act, he falls for an automaton that resembles a human.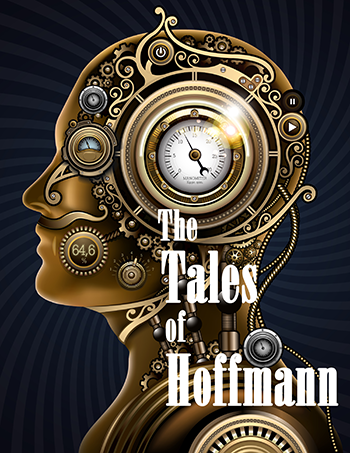 Next, he revisits a former love, a singer with an illness that prevents her from performing. And finally, Hoffmann falls for a devious courtesan, who is determined to betray him. Throughout these adventures, he is accompanied by his Muse – disguised as friend Nicklausse.
"The Tales of Hoffmann" premiered in 1881 in Paris at Opera-Comique – months after Offenbach's death – and continues to be a popular draw in opera houses around the globe. This will be the third time it has been produced by the Moores Opera Center.
For this production, however, the costumes will take on a steampunk flavor – a mix of Victorian-era fashion with traces of sci-fi thrown in for good measure.
"Steampunk is a form of Victorian futurism," Ross said. "All of the villains in the piece have elements to their costumes that make them resemble cyborgs. And the story in which Hoffmann falls for a mechanical doll lends to this aesthetic as well. It's a musically spectacular opera, but this particular production also will be a visual treat."
Each Hoffmann adventure will feature a different singer in the title role. Those performing the role of Hoffmann include Bryan DePan, Christopher Abide, Tyler Beck and Mark Thomas. Other cast members (alternating roles) include Catherine Goode and Julie Thornton as Olympia; Sydney Anderson and Page Madison as Antonia; Nicole Woodward and Gwendolyn Alfred as Giuletta and Jessica Blau and Amy Sheffer as Muse/Nicklausse.
The Moores Opera Center was founded in 1986. Each season, it delivers four productions. Among its Houston premieres are Nino Rota's "The Italian Straw Hat," Daron Hagen's "Amelia," Daniel Catán's "Il Postino," Robert Aldridge's "Elmer Gantry," Ricky Ian Gordon's "The Grapes of Wrath," Sergei Prokofiev's "The Love for Three Oranges," Carl Maria von Weber's "Der Freischütz," Samuel Barber's "Vanessa," Jules Massenet's "Chérubin," Gioachino Rossini's "Il viaggio a Reims," and Kurt Weill's "The Rise and Fall of the City of Mahagonny." Professional recordings include the center's productions of Dominick Argento's "Casanova's Homecoming" and a DVD release of Robert Nelson's "A Room With a View." For more details on the Moores Opera Center, visit http://www.music.uh.edu/opera/. 
For the past three years, the Moores Opera Center received honors from the National Opera Association (NOA). Its 2013 production  of "Moscow, Cheryomushki" took first place Division V in the association's national competition. Its 2013 production of "Rigoletto" earned second place in Division IV. In 2012, the center received NOA awards for operas "Amelia" (first place – Division IV); "Der Rosenkavalier (second place – Division V). In 2011, "Il Postino" also earned NOA honors (first place – Division IV).
---