Ivo Josipović, the president of the Republic of Croatia, and a delegation of Croatian dignitaries recently visited the University of Houston, toured the Moores School of Music and met with UH President Renu Khator and several faculty members. Josipović is not only a politician, but also an attorney, former professor and accomplished classical composer who takes a great interest in higher education.
"I consider education as the most important driver for any society," said Josipović.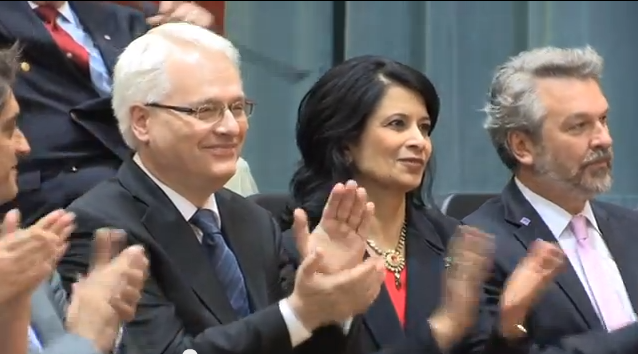 Josipović took time to enjoy the arts during his U.S. tour. The president listened to his own composition being performed on the piano by University of Houston music professor Tim Hester at the Moores School of Music. 
"Knowing that he had written every single note, I did my best to try to nail them down," said Hester.
"There were four pages of instructional notations on how to play the piece, a lot of unusual markings in the music. I would say it was very colorful. He gave me the thumbs up. He was so nice and said he thought it went very well." 
Josipović met with Vice President Joe Biden and other elected officials in Washington, D.C., before making the trip to Houston, where he was touting his country's energy projects. Croatia is expected to begin oil and gas exploration work in the Adriatic Sea early next year.
"We are very humbled, very grateful to have him here, particularly because we have common interests in energy," said Khator. 
Josipović pointed out UH's success in creating industry partnerships as a reason for choosing UH as a stop during his U.S. tour.
"The main reason I am here is to learn about one of the most successful universities in the United States and in the world. I am interested in how to connect education and economy," said Josipović.
The meeting between Josipović and Khator sets the stage for a Memorandum of Understanding between the University of Houston and Croatia's University of Zagreb, where the Croatian leader earned a Ph.D.
The University of Zagreb is one of the oldest and largest universities in southeastern Europe. The MOU, which is expected to be signed in July in Croatia, will give more UH students the international experience necessary to compete in a global economy. Academic and scientific cooperation between the two universities will range across almost all disciplines, but of particular interest will be the arts, energy, engineering and languages.
"I am very impressed by the organization of your University. I am impressed that you have professors and students originating from all around the world," said Josipović. 
"We are getting a reputation as 'The Energy University" and 'The Global University,'" said Khator. "He was very impressed, and I am certainly looking for many, many more collaborations."
---