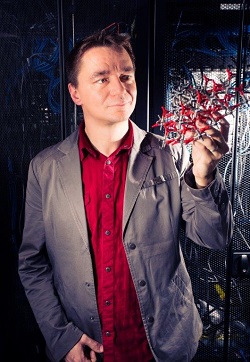 Lars Grabow, an assistant professor of chemical and biomolecular engineering at the University of Houston, has been awarded a $750,000, five-year award from the Department of Energy. The award is designed to support the nation's most exceptional researchers during the early years of their careers.
Grabow will use the money to continue his research into upgrading bio-oil, oil made from wood and other plant materials. Right now, the oil isn't suitable as a transportation fuel or for chemical use because the oxygen content is too high – as much as 40 percent by weight, making it unstable and incompatible with petroleum-based fuels.
DOE announced 35 Early Career awards earlier this month, 17 to scientists working in DOE's national laboratories and 18 to researchers in the nation's universities. To be eligible, researchers must have received a Ph.D. within the past 10 years; research topics are required to fall within one of the department's Office of Science's six major areas: advanced scientific computing research, basic energy sciences, biological and environmental research, fusion energy sciences, high energy physics and nuclear physics.
Grabow's work was selected for funding by the Office of Basic Energy Sciences.
In addition to his work on upgrading bio-oil, his lab works with converting methane into value-added chemicals and with treating emissions from natural gas and diesel engines.
Biomass, and biofuels in general, have had a disappointing few years, falling far short of DOE's targets for integration into the nation's fuel tanks. There are several reasons, but Grabow said one is that inexpensive and abundant natural gas has relieved some of the pressure.
"People really thought biomass was going to be the next big thing," he said. "But the choice of feed stock is really driven by whatever is the cheapest and most abundant."
Bio-oil is created by rapidly heating biomass – wood, such as dead trees and branches, switchgrass or other plant waste – until it forms a vapor, which then condenses to a liquid. That process is called flash pyrolysis, and it produces bio-oil. But the oil's high oxygen content results in a low heating value, unsuitable to combine with conventional fuels.
Researchers know how to remove the oxygen, Grabow said, but it's not cost-effective. That's the next step in his research, which he will continue with the funding from the Early Career award.
One key will be to attempt to adapt existing technologies, including those used in refineries to remove sulfur from petroleum products. Most of his work is done with supercomputers, simulating reactions to predict what materials might work as good catalysts and, ultimately, creating a database of possible solutions. When his lab comes up with a promising solution, collaborators at the University of Oklahoma and the Massachusetts Institute of Technology will test it, Grabow said.
Although the Energy Department has been forced to scale back some of its ambitious goals for biofuels over the past few years, Grabow said he's confident that ultimately the concept will be successful.
"It's not going to be tomorrow," he said. "It's maybe not going to be in 10 years. At some point, even abundant natural gas is going to run out. The only truly sustainable energy source is the sun."
The sun is the true source of biofuels, too, he said, providing food for plant life.
---