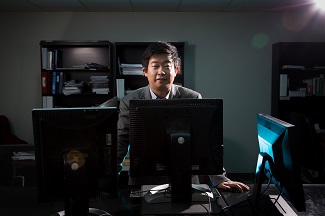 Two of the region's largest energy companies have joined with the University of Houston to form the Electric Power Analytics Consortium, intended to enhance  current models used to predict the number of electric outages due to the impact of storms  and better serve customers.
CenterPoint Energy and Direct Energy are founding members of the consortium, described by UH Chief Energy Officer Ramanan Krishnamoorti as an example of what the UH energy initiative is intended to accomplish, bringing academic research to real-world issues.
"In this case, we will be helping energy companies ensure that they are responding as quickly as possible to their customers and consumer demand," Krishnamoorti said. "Whether that's by enhancing electric power outage prediction models  in preparation for  a natural disaster or helping consumers use electricity most efficiently to conserve power and reduce costs, the consortium will have benefits for both industry and the University."
The initial focus of the work will involve analyzing the massive amounts of data streaming in from smart meters CenterPoint Energy installed across the region, known as big data. With more than 2 million smart meters in the Houston area, each reporting 15-minute-interval data, there is a deluge of information available to energy companies and grid operators.
The consortium, led by principal investigator Zhu Han, will focus on data-driven solutions that help customers. Innovations from the effort will drive service for Direct Energy's residential and business customers in Texas and nationwide.
"Working with industry-leading researchers at UH provides Direct Energy a unique opportunity to create new solutions for customers and to better respond to their needs," said CEO Badar Khan. "As founding members of the Electric Power Analytics Consortium, we want to help Texas energy consumers be at the forefront of new ideas as new technology emerges."
But not all of the work involves smart meters.
CenterPoint Energy was the consortium's first member, joining in 2013. The company is working with Han to develop a predictive damage assessment model to prepare for hurricanes or other major storms.
"We understand that everyone wants power back on quickly following a natural disaster," said Kenny Mercado, senior vice president of CenterPoint Energy's electric business. "But the reality is there will be outages."
More than 2 million of CenterPoint Energy's 2.2 million consumers experienced outages after Hurricane Ike in 2008. Power was restored to 75 percent of those customers within 10 days.
Han, an associate professor in the Department of Electrical and Computer Engineering at UH, said his predictive model can provide CenterPoint Energy with information pertaining to the damage that may be caused by a hurricane based on the intensity and path of the storm. This information would supplement CenterPoint Energy's storm planning and restoration strategies.  
"We believe the investments we've made in intelligent grid and analytics technologies will improve how we identify where service problems are and how quickly we restore power after a major event," Mercado said. "Combine this with the technology UH students are being exposed to today, and we're confident we'll have progressive modeling that we can use to better prepare for future weather events."
Direct Energy joined the consortium this year, and Khan said joining the company's experts with those from UH "will help enhance energy reliability at a lower cost to our customers, leveraging a better future for all Houstonians and the state of Texas."
---